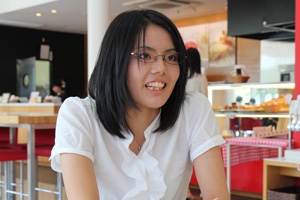 School of Economics, Faculty of Economics 2nd Year, Main Evening Course
Hanako Nakamura
<Graduated from Kajiki High School, Kagoshima Prefecture>
"HU Student Voices" gives those who would like to enter HU an insight into the perspectives of current HU students.
In this, the eighth interview in this series, we talk to Hanako Nakamura, a second-year student on the main evening course offered by the Faculty of Economics.
Ms. Nakamura devotes her energies to her hobby, while also studying diligently. We talked to her about taking the entrance examination and university life.
What made you decide to take the entrance examination for Hiroshima University?
I originally wanted to enroll in the Faculty of Economics. I mainly wanted to study management, so I looked at various universities and I chose Hiroshima University because its Faculty of Economics offered a more comprehensive syllabus, including not only management studies, but also microeconomics and macroeconomics. I didn't take the entrance examination for any private universities, because I wanted to go to a national or public university.
Why did you become interested in management?
When I started to read newspapers, I was surprised to find that there was extensive coverage of companies that I'd never even heard of, and some of them were achieving remarkable earnings. It was the first time I'd realized that the Japanese economy is made up not only of the kind of large corporations you see on TV commercials, but also a range of companies – both large and small – in areas that I was unfamiliar with.
The reason why management studies was the area of economics that particularly interested me was that unlike microeconomics and macroeconomics, which are primarily concerned with theory, management studies is a discipline in which you study actual companies and organizations, so I thought it would be easier to get a mental picture of how they worked. Plus it's really interesting to hear about the real-life experiences of corporate managers.
How did you study for the entrance examination?
I studied alone, without going to a cram school. I was retaking the entrance examination, so I mainly studied at home, but I often went back to my old school to get information about the entrance examinations. My old teachers were really helpful, giving me advice about study methods.
I mainly used my school textbooks for studying. I wasn't very good at the sciences or classical Japanese, so I methodically went through the whole textbook for each subject, to make sure I had a proper understanding of the basics.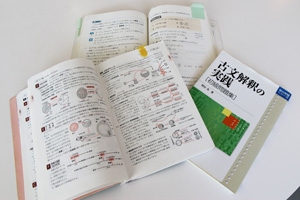 The textbooks Ms. Nakamura used
You must have needed a lot of tenacity to study at home the whole time. What did you do to relax?
I had nobody to compete against and my scores on the practice tests weren't very good, so there were times when I found it hard to motivate myself. When I couldn't concentrate, I'd go for a walk near my home. Rather than going on an adventure, exploring streets I'd never been along before, I preferred to walk the same circuit each time. I think perhaps I liked steadily doing the same thing on a set route. (Laughs)
Now tell us about things after you entered university. Is there anything in particular that makes you glad you came here?
The orientation camp for new students is really good because you can make friends straight away, as well as getting to know the students in the years above. When you become a university student, you can feel a bit anxious, living away from home for the first time, so it's reassuring to have people you can talk to about your worries. I have lots of friends whom I became close to after getting to know them at the orientation camp.
I was also impressed by the student information web portal Momiji – it has all the information you need for student life, including information about learning, finding a job, and scholarships. It's really handy to be able to get the information you need immediately via the internet, without having to go all the way to one office or another.
What are you studying at the moment?
I'm not taking any seminar courses at the moment, so I'm not doing any specialist study yet. We're assigned to seminar courses in the third year and that's when we finally start doing specialist study, so right now I'm making it a habit to check the newspapers, so that I have some kind of understanding of what's happening in society.
How do you spend your free time?
I like reading, so I often go to the library. Naturally, I go to Hiroshima University Library, but there are many big libraries in the center of Hiroshima, so I often use those as well.
Another of my hobbies is handicrafts. A book on dressmaking that I happened to acquire really appealed to me, so I decided to try my hand at making my own clothes. Once, when I went to see a play, the actress was wearing a lovely costume, so I made something similar, tailoring it to my own style.
When you make things by hand, you can immerse yourself in the task and forget about anything that you're angry or upset about. You start feeling, "OK, I'll try again tomorrow!"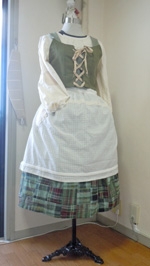 An outfit with a fairytale motif. Cute!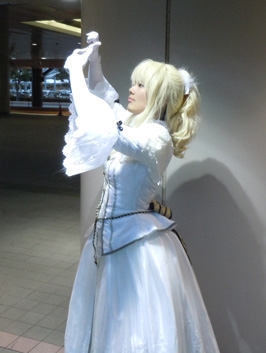 A dress that Ms. Nakamura made after admiring one she saw in a play. That's actually her wearing it.
Those dresses are amazing! Please tell us your dreams for the future.
I haven't yet decided specifically what I want to do for a living, but I'd like to find a job that allows me to make use of my knowledge of management studies.
Finally, what message do you have for high school students thinking of taking the entrance examination for Hiroshima University?
Rather than thinking about "Which faculty should I go to at which university?" I believe it's more important to consider "What do I want to be after I've finished studying?" Going to university is a major turning point in your life, but it's not the ultimate goal. Look one step ahead and think things through carefully.
If you're unsure what to do, make sure you talk to someone you can trust, like your parents. If you talk to someone, you're bound to feel calmer and be able to think things through rationally.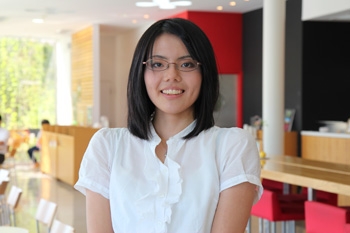 September 18, 2013
Article: S (PR Group)
Photograph: A (PR Group)
Location: la place (Mermaid Café, Hiroshima University Branch)