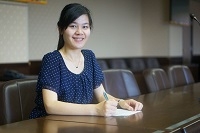 Ju Yaqin (China)
○2011.10~2012.3 Research Student
○2012.4~2014.3 Master's Program, Graduate School of Social Sciences, Hiroshima University
○2014.4~ Doctoral Program, Graduate School of Social Sciences, Hiroshima University
1. Why did you choose the major you are studying?
I've studied English for 4 years in China. However, besides English, I was also interested in economics, which is close to our daily life. Therefore, I studied economics as the double degree.
My hometown is a coastal city, where there are many foreign companies, especially Japanese companies. Therefore, while making use of the language and economics knowledge I've learned so far, I also want to learn another new foreign language in order to make myself more international and work in the Asian area in the future.
2. Could you explain your research in detail?
In the early 1990s, due to the asset price bubble, the economy of Japan was in recession for a long time. During this period, the Bank of Japan lowered the interest rate and in 1999, adopted the zero interest rate policy. The economy of Japan could not get out of the recession and deflation. In March, 2001, the Bank of Japan adopted the Quantitative Easing policy, and the policy indicator was changed from call rate to Bank of Japan current account balance.
I'm very interested in the role of monetary policy during the "lost 20 years" and effects of Quantitative Easing policy. In my master paper, I used the VAR model to analysis the effects of monetary policy, especially the Bernanke-Mihov identifying approach. Then I added other financial variables in the model and examine its transmission mechanism. It shows that from 2001 to 2006, the Quantitative Easing policy recovers the economy through the change of stock prices. Next I want to examine the effects of ultra-easing monetary policy in Japan.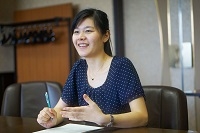 3. When you came to Japan, what did you think about the courses that you attended?
My major is English, so I am confident with myself, while not in Japanese. Therefore, when I just arrived in Japan, I was very nervous. At first, I couldn't understand what the teacher said at all, which worried me a lot. I had to preview and review the texts learned in class. At the same time, I attend the Japanese courses as long as I'm free. In addition, our teachers are very kind and always make the courses easy to understand to make sure we international students could catch up with other students.
Japanese Language/Japanese affairs We are running Standard academic units in Japanese for the international students belonging to the regular departments of Hiroshima University. The taking of these units is allowed to all international students (Including visiting researchers) for their support.
4. What is the atmosphere like in your faculty study room?
The arrangement of study rooms in Hiroshima University is very reasonable. As for me, during the research student and the 1st year of master period we are in a big study room that contains about 10 persons. Especially during the period of research student, there were many other students who also arrived in Japan. All of us were worried about how to study and live in this totally new environment, how to prepare for the entrance exam of graduate school and so on. However, we encouraged and helped each other and overcame difficulties together finally. Moreover, we also received many useful advice from senior students in the same study room.
During the period of M2, in order to concentrate on the research paper, we move to a small study room that contains 4 persons, where is quiet and we could read books and write our papers.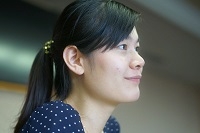 5. Please allow me to ask a question about your future goals. What kind of job would you like to do?
I've been studied "Empirical analysis of the Macroeconomic policy in Japan", and during the doctoral course, I'm going to study the ultra-easy monetary policy of advanced countries such as the US, the Britain and so on. Then I'm expecting to work as an academic stuff while making full use of my language ability and economics knowledge.