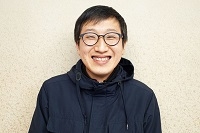 Jae Hyeon Yi (Korea)
○2011.4~2012.3 Research Student
○2012.4~2014.3 Master's Program, Graduate School of Education, Hiroshima University
○2014.4~ Doctoral Program, Graduate School of Education, Hiroshima University
1. Why did you choose the major you are studying?
I studied Japanese language education as my major in a university in Korea. After graduating, for a short while I experienced teaching Japanese at a Korean high school. During that time, I realized that Japanese grammar explanations are not taught thoroughly in Korea because Korean and Japanese are very similar languages. The majority of instructions were literal translations and I thought something was not quite right. This made me wanted to learn more about Japanese and Korean grammar in depth.
In my fourth year of my undergraduate degree, I studied abroad at a university in Hyogo prefecture. At that time, just when my Japanese was getting better, I needed to head back to Korea. I still could not speak Japanese fluently, so I wanted to study again in Japan. I decided to study at Hiroshima University because they are famous for their education faculty.
2. Could you explain your research in detail?
I am working on comparative research between Japanese and Korean grammar. Specifically, on the phrase "~shiteiru" (similar to ~ing), I compare and contrast the Japanese grammar version and Korean grammar version. After analyzing the similarities and differences, I am researching the most successful ways to teach these aspects to Korean students learning Japanese as a second language, also taking into consideration why these differences appear between the two languages. For example, I compare the Japanese spoken by non-native speakers and native speakers, and I think about why they might use different grammar. In the future, I want to research not just Japanese and Korean grammar, but I also want to make a comparison to the Chinese language.
I would like to introduce something about Japanese grammar that most native Japanese speakers do not notice, the difference between "~souda" and "~youda". The similarity between these two phrases is that both are used when there is evidence (perhaps something you have heard or seen with your eyes) that something is correct. The difference is that "~souda" is a phrase used about something happening in the future and "~youda" is a phrase used about something happening in present time. For example, when you see the sky is cloudy, the correct grammar would be "Amega furisouda" (It looks like it's going to rain). It would be incorrect to say "Amega furuyouda". On the other hand, if you hear a sound from a room next door, the correct grammar would be "Tonari ni dareka iruyoudesune" (It seems like there is someone in the next room). You would not say "Tonari ni dareka irusoudesune". It is one part of my research to think about these differences that occur in grammatical expressions.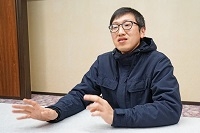 3. When you came to Japan, what did you think about the courses that you attended?
My Japanese language education classes at Hiroshima University are very detailed in grammar. Grammar is my passion so I am spending a fulfilling student life here. During my first year as a research student, I mostly took classes at the undergraduate level and studied for my graduate school entrance exam.
After entering graduate school, I am continuing my research while asking for advice from my mentor. My mentor listens to students' opinions earnestly and suggest things like "Would you be able to say the same thing if you thought about it from this perspective?" or "If you look at it from this angle, it might not be true". He always suggests new ways of looking at the material. Even when my research is not going smoothly, my mentor is very nice, and gives me a helping hand even for things not related to my research. I feel confident that I can continue my research under my mentor.
4. What is the atmosphere like in your faculty study room?
There are 16 graduate students in my faculty study room, and two-thirds of them are international students. The atmosphere is not stiff and formal at all. There are students from China, Taiwan, Indonesia, etc, I am able to experience international exchange just by being in the study room. Some people might say I live in the study room; that is how much I stay there. On the weekdays I am always reading research articles there. The study room has a cozy atmosphere.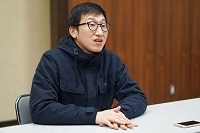 5. Please allow me to ask a question about your future goals. What kind of work would you like to do?
I would like to become a university professor either in Korea or Japan. I want to focus not only the similarities, but also on the differences between Japanese and Korean. I hope I can contribute to Japanese language education in Korea.
6. Do you have some advice for your juniors who wish to study abroad in Japan?
I have heard that Hiroshima University has the biggest Japanese language education curriculum. There are numerous famous teachers, so I think it is an environment where you can study extensively. For those wishing to learn Japanese language education, I am absolutely certain that Hiroshima University is a great environment.