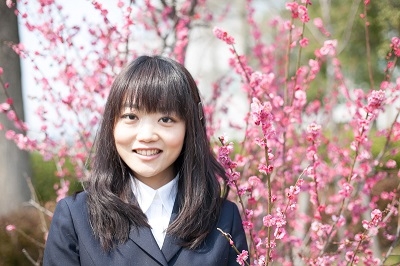 Ma Dongmei (China)
○2011.10~2012.3 Research Student
○2012.4~2014.3 Master's Program, Graduate School of Integrated Arts and Sciences
○2014.4~ TIS Co., Ltd.
1. What kind of work are you doing now?
Now I am working in TIS Co., Ltd, responsible for sales and Marketing Planning, such as visiting our customers, interpreting for our American customers, translating documents from English into Japanese and so on.
2. What did you learn at Hiroshima University? How have you made use of the knowledge you gained?
First of all, foreign language ability. Through many kinds of courses, I have improved my Japanese and English a lot. And my major is social sciences. Through my research, I examined social phenomenon from various points of view.
I also apply my language ability, analyzing ability acquired during research in the university to my work. Although it is a totally new working environment for me, I have gotten used to my work quickly and smoothly.
Also, I gave a presentation on my own project and it was accepted, making me proud of myself.
3. Why did you decide to work in Japan?
Cultural and economic exchanges between China and Japan have been active since a long time ago. The two countries both play important roles in the Asian area. Therefore, I have been expecting a job that could become a bridge between two countries. Since I could speak both Chinese and Japanese, I've made full use of my knowledge and found a job in Japan. I will live here and make a greater progress. Now, I am especially interested in the operation, administration, project management of Japanese companies.
4. What do you like best about Hiroshima University?
From study to daily life, I like everything about Hiroshima University. From the aspect of study, there are various foreign languages courses for international students, which improve our foreign language ability greatly. Also, top-level researchers in many specialized fields are gathering in Hiroshima University. Thanks to their instructing, we could learn specialized knowledge. Moreover, the well-equipped facilities such as library, study rooms and so on create a pleasant environment for us to study and research.
From the aspect of daily life, Hiroshima University is also fascinating. And what I have to say is the beautiful environment in and around the university. In the rich natural environment, we live a comfortable life here. Also, there are cafeterias inside university and restaurants outside, therefore, it is very convenient even when you are busy. Hiroshima University also provides sufficient accommodations such as dorms, physical and mental support system for international students, which make us safe and pleasant here.
In addition, there are many international students studying in Hiroshima University. You could make friends with students not only from your own country and Japan, but also from all over the world. Although I have graduated, I keep in touch with my friends, and hope we could meet again someday. This is really wonderful experience for me.
Teachers and friends at Hiroshima University were so kind that they helped with whatever problem I faced. The campus and its surrounding environment helped me lead a placid life and focus on my studies.
5. Please offer some advice for students who plan to study abroad.
I think before going abroad, making your plans clearly is very important. Then, please do you best to achieve this goal. Of course, besides studying, you need to make your life abroad happy. You could make various kinds of friends, travel to different places, and especially, experience the culture and customs of Hiroshima in Japan.