On November 13, 2021 the 4th Japanese Speech Contest was co-hosted by the Komaru-Koutsu Foundation, Hiroshima University Lithuania Center, and Vytautas Magnus University (Centre for Asian Studies and Japanese Studies Club HASHI). In previous years the contest took place at Vytautas Magnus University (VMU), but this year (much like last year), the contestants, guests and staff from Fukuyama Transporting Co. Ltd., Hiroshima University and Lithuania connected online to hold the contest due to the impact of COVID-19.
The contest began with opening addresses by Mr. Shigehiro Komaru (President of the Komaru-Koutsu Foundation, President of the Fukuyama Transporting Co. Ltd., and Honorary Consul General of the Republic of Lithuania in Fukuyama), and Dr. Linas Didvalis (Head of the Centre for Asian Studies, VMU). On top of that, the Japanese Ambassador to the Republic of Lithuania H.E. Mr. Tetsu Ozaki, who attended as a special guest, also gave his address.
After that, the pre-recorded Japanese speeches of the eight contestants were broadcasted, and the judges asked the contestants questions about their speeches. As a result of rigorous judging, certificates and prizes were awarded to the winners of the beginner, intermediate and advanced levels.
The contest concluded with a closing address from Executive Vice President Toshiyuki Sato of HU. The audience of around 50 people listened intently until the very end.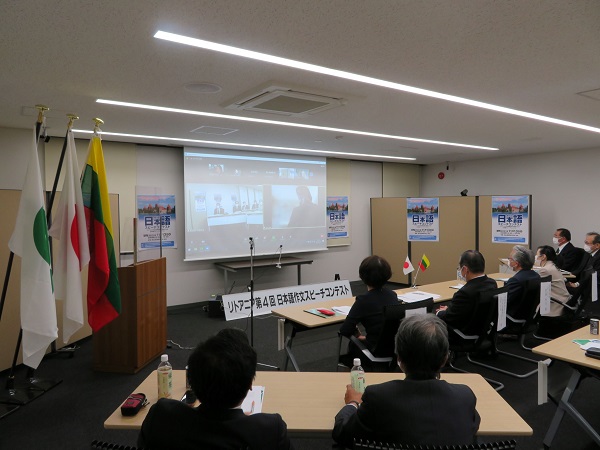 The contest at the venue in Japan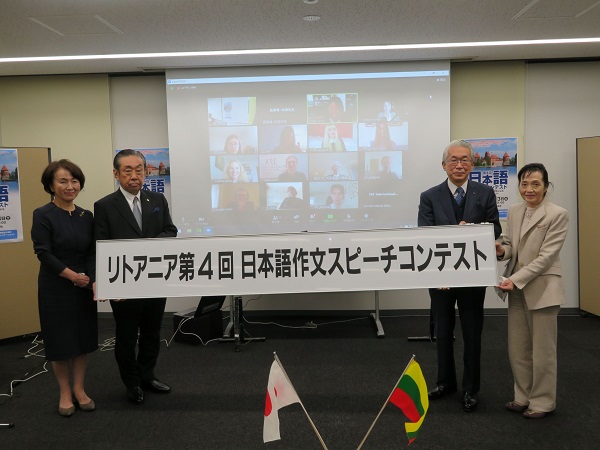 Group photo at the venue in Japan:
From left, Mrs. Teruko Komaru, President Komaru, Executive Vice President Sato and Mrs. Michiko Shigeeda, wife of the Former Japanese Ambassador to the Republic of Lithuania
(Online participants can be seen on screen)
[Inquiries]
Global Initiatives Group, Hiroshima University