On July 8, 2023, Hiroshima University (HU) concluded a comprehensive inter-university international exchange agreement with the World Maritime University (WMU), which plays a central role in graduate education, specialist training, and research in the fields of maritime and oceanic studies worldwide. The agreement was made to promote academic and educational exchange between the two universities.
Both universities have made advances towards exchange this year. In March, HU President Mitsuo Ochi increased the momentum for exchange when he visited WMU and signed a letter of intent, agreeing to cooperate in joint research and education in the fields of maritime and oceanic studies. Then, upon assuming office in June, President Max Mejia came to HU during his first visit to Japan as president of WMU, culminating in the conclusion of the international agreement on this occasion.
Ahead of the signing ceremony, President Mejia and President Atsushi Sunami of the Sasakawa Peace Foundation (SPF) visited the Higashi-Hiroshima Campus of HU. Executive Vice President in charge of Global Initiatives, Shinji Kaneko, showed them around the university, where they could observe the Phoenix International Center MIRAI CREA and more.
In addition, President Mejia also attended the 'Town & Gown Office Signing Ceremony for the Agreement of the Formation of Maritime and Oceanic International Bases', which was held in coordination with HU's signing ceremony. It was held by Kure City, HU, the Japan Coast Guard Academy (JCGA), and the SPF. After the signing ceremony, the participants observed HU's School of Applied Biological Science Training and Research Vessel Marine Station as well as JCGA.
This inter-university international exchange agreement is expected to promote collaboration with international and government institutions, beginning with WMU. International cooperation in educational programs, human resources development, and maritime and oceanic studies is projected to move forward into the future.
【Articles for Reference】
Collaboration with the World Maritime University
Town & Gown Office Agreement Among Kure City, Hiroshima University, the Japan Coast Guard Academy, and the Sasakawa Peace Foundation to Create New Maritime and Oceanic Bases in Asia (Japanese article)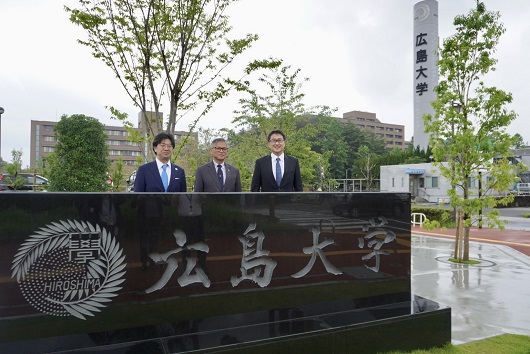 Observing the Higashi-Hiroshima Campus
(From left to right: President Sunami, President Mejia, and Executive Vice President Kaneko)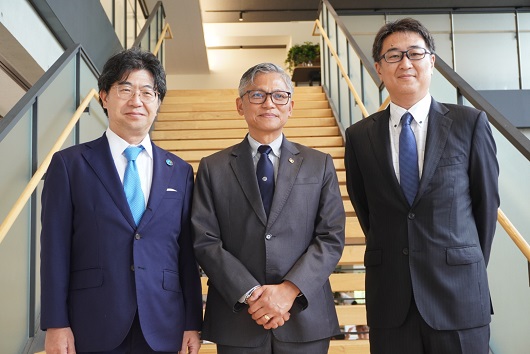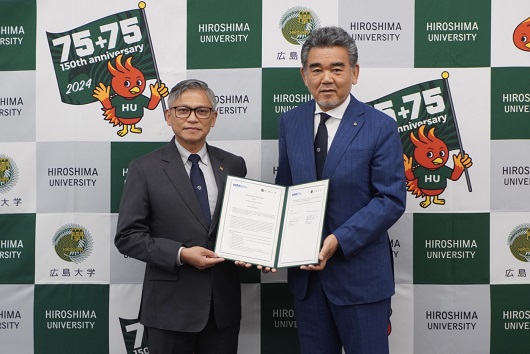 Commemorative photo taken after the signing ceremony with the World Maritime University
(President Mejia pictured left, President Ochi pictured right)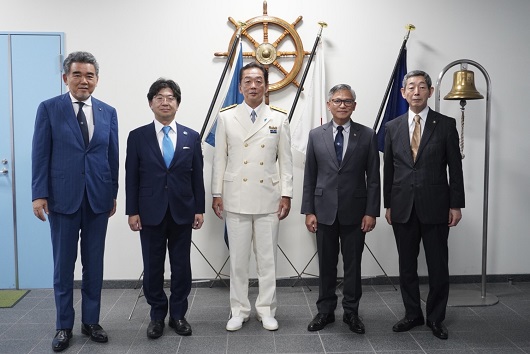 At the Japan Coast Guard Academy
(From left to right: President Ochi, President Sunami, Superintendent Eguchi, President Mejia, and Mayor Shinhara)
Inquiries
Global Initiatives Group, Hiroshima University
TEL: 082-424-6042
Email: kokusai-kyoten*office.hiroshima-u.ac.jp
(Please replace * with @.)