About the Ikenoue Student Dormitory
The Ikenoue Student Dormitory was established to provide students with residential accommodation appropriate to their studies, which would also enable them to experience daily life as a responsible citizen.
While the dormitory features individual private rooms, thereby respecting students' right to live as individuals, each floor is home to between 10 and 20 students, so it also offers opportunities for communal living. In addition, Japanese and international students live alongside each other in the same building, providing opportunities to deepen mutual understanding and engage in international exchange.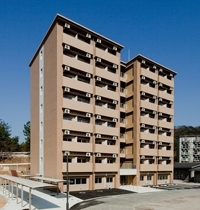 The photograph shows the new Building No. 11 (Type C), which was completed in February 2010.
【Address】
2-812-62 Kagamiyama, Higashihiroshima, 739-0046
【Structure】
Reinforced concrete
【Rooms】
Individual western-style rooms (figures below show area per room)
- Buildings No. 1-4 and 7-9: 10 square meters
- Buildings No. 5-6 and 10: 12 square meters
- Building No. 11: 14 square meters
【Commuting time to Higashihiroshima campus】
On foot: about 10~15 minutes
By bicycle: about 5~10 minutes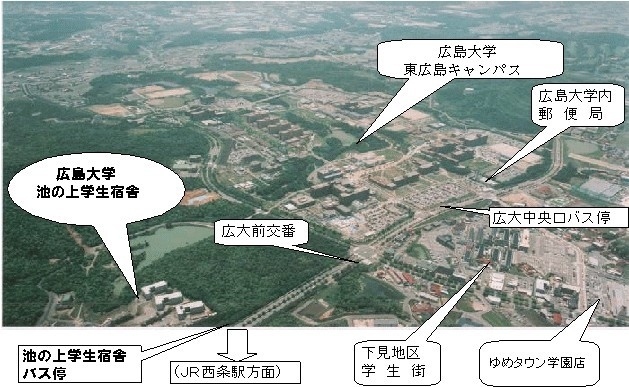 Outline of Facility
There are 11 buildings, all of which have only western-style rooms. There are four types of room, classified A-D.
Important information for those currently living in the dormitory and those thinking of taking up residence there
Introduction videos of the dormitory's rules
Following three videos show "Tips & Rules for the Life in Ikenoue Student Dormitory", "Rules for Common Facilities & Common Areas", and "Rules of Garbage Disposal".
These videos pick up and put together contents in the Ikenoue Student Dormitories Guidebook. Please refer to Ikenoue Student Dormitories Guidebook, too.