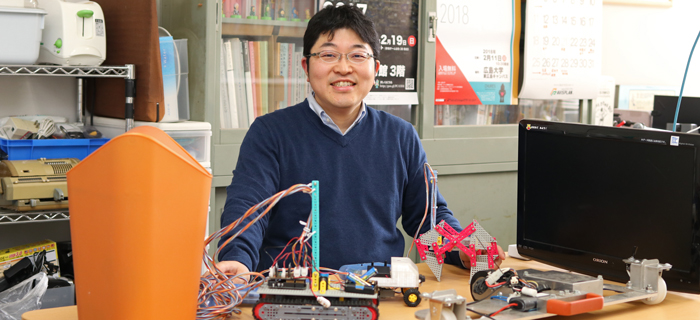 The interview series of "What We've Found Particularly Good About HU" proudly shares with you what's wonderful about Hiroshima University.
Attached schools provide a venue for teaching practice
Hiroshima University has attached schools in Hiroshima city (in the Midori and Shinonome districts), as well as in Fukuyama and Mihara city. These attached schools provide a venue where Hiroshima University's undergraduate students can undertake teaching practice. They host a large number of students every year, so the teaching staff at the attached schools are used to supervise HU students on teaching practice and can provide thorough follow-up. In addition, the pupils at the attached schools are all excellent. Therefore, these schools offer students who aspire to become teachers, an outstanding front-line educational environment.
For undergraduate students, teaching practice involves not only increasing their knowledge of the subjects studied in their university classes and their practical teaching skills, but also learning a wide range of things about the work done by schools. As well as teaching, they deal with general school administration and extracurricular activities, and also provide the pupils with guidance about daily life. Through this first-hand experience, students gain a very real sense of the challenges of being a teacher. Another good point about teaching practice at Hiroshima University is that the large number of trainee teachers means that each student has a substantial peer group who are able to sympathize with them and with whom they can discuss their successes and failures.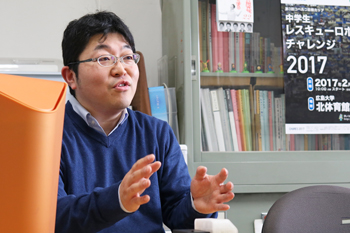 Cultivating education in partnership with local companies
My own focus is technology education for elementary and junior high school pupils. The Rescue Robot Challenge for Junior High School Students, which we co-organize with Kobelco Construction Machinery Co., Ltd., took place for the 14th time this year, counting the contest's predecessor. Teams from many junior high schools take part every year, to present ingenious robots with various rescue activities. By designing and producing robots, the pupils gain skills and knowledge that cannot be taught in ordinary school lessons. The contest also fosters communication skills as they take on the challenge of solving problems as a team.
Students from the School of Education's Program in Technology and Information Education are involved in running the contest. The students formulate the rules with Kobelco Construction Machinery's staff and visit the participating junior high schools to provide students with guidance in manufacturing their robots. This also provides undergraduate students the experience to interact with both junior high school pupils and working members of the society. I have been delighted to see alumni taking part in the challenge again after becoming teachers.
It is important to cultivate forums for education outside the classroom, and thanks to the support that we have received from companies, we have succeeded in doing so in the running of this challenge. I also think it is wonderful that companies and the local community readily offer their cooperation if they know that Hiroshima University is involved. In 2015, Kobelco Construction Machinery and Hiroshima University established a joint research course as part of an academic-industrial collaboration program. We have high hopes for further expansion in our partnership going forward.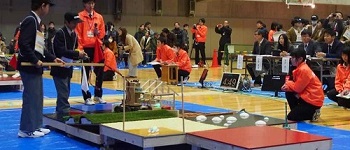 3rd Rescue Robot Challenge for Junior High School Students held in 2017 (Those in the orange jackets are undergraduate students from the School of Education's Program in Technology and Information Education)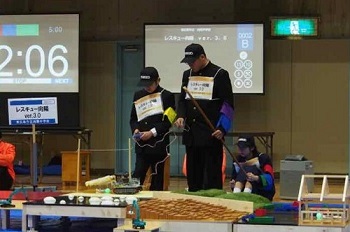 Junior high school students successfully complete a challenge with their robot
Being a technology educator means being willing to turn your hand to anything
My specialty was originally in mechanical engineering, but now you might call me a collaborator in engineering and education. In the education field, I devise teaching tools to support children acquire good habits. For example, there is the "talking trash can". When someone puts garbage inside, it says, "Thank you," but if nobody puts any garbage in it, the trash can says, "I'm sad." This means that children learn the social habit of "putting the garbage into trash cans" while having fun. In the realm of welfare, I am developing a device that enables children with severe disabilities who cannot move by themselves to do "something new" at the push of a button.
Working in a variety of fields means that I have to find people with whom to collaborate, but fortunately, Hiroshima University has a full range of faculty members, covering all genres. Particularly, I work with specialists in special needs education from the Graduate School of Education, and also with lecturers from the Graduate School of Education. Even outside work, I get acquainted with teachers from different fields and get a lot of inspiration from them.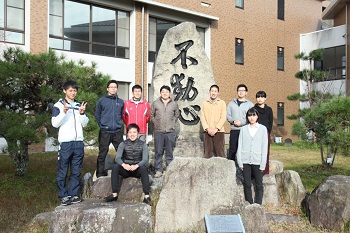 Associate Professor Kawada with students from his laboratory
Profile
Successfully completed a doctoral program at the Graduate School of Education, Hiroshima University. He assumed his current post in 2011, after holding teaching positions at Kagawa Prefectural Tadotsu Technical High School and Takamatsu National College of Technology and being a lecturer at the Graduate School of Education of Hiroshima University.
Overview of Research
Specializes in technology and industrial education (mechatronics). Mainly focuses on skills assessment based on approaches used in control engineering, as well as developing systems to support the acquisition of skills, and creating teaching materials for use in technology and industrial education.
(Interview: March 2018)