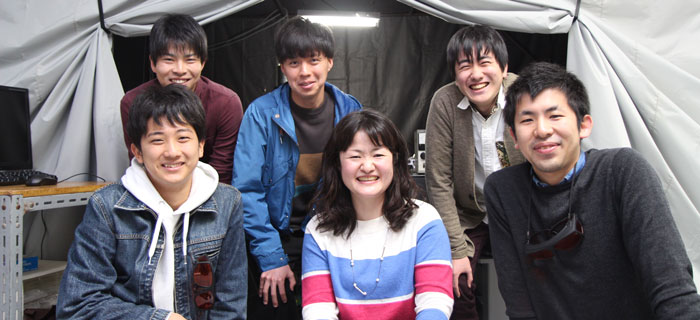 Assistant Professor Tominaga (front row, center) with students from her laboratory
The interview series of "What We've Found Particularly Good About HU" proudly shares with you what's wonderful about Hiroshima University.
Attracting a diverse array of talent from across the globe
I believe that Hiroshima University's appeal lies in both its outstanding research facilities and the talented personnel who take full advantage of them. Hiroshima University is composed not only of its home-grown academics, but also of faculty members with a variety of experience from various countries and regions across the globe, forming an integrated whole. There are many professors that are not only fascinating as researchers but also warm and cheerful individuals. And of course, beyond the faculty members are the University's wonderful students. As a research university, we need to be aware of our performance indicators and position in the global ranking; however, I hope more people discover the positive aspects of Hiroshima University that do not directly feed into those facts and figures.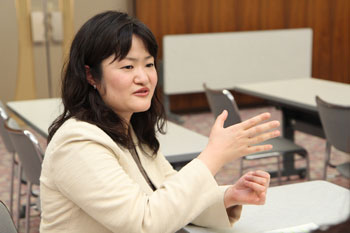 Superb facilities and a research environment where young academics can feel free to take on challenges
For more than a decade, since my student days, the main theme of my research has been the creation of semiconductor crystals with the aim of developing new light-emitting devices. Light-emitting devices, electron devices, and other semiconductor devices are used in many electronic devices around us, such as smartphones and computers.
Hiroshima University has many facilities essential to research focused on semiconductors and other electronic materials, including the Research Institute for Nanodevice and Bio Systems, the Natural Science Center for Basic Research and Development, and the Hiroshima Synchrotron Radiation Center. The University also has a facility called the Hiroshima University Innovation Plaza, which provides the intricate components and skilled workmanship required to maintain and manage the experimental apparatus in these research facilities. Since I joined Hiroshima University, I have been working on the development of an optical device that takes advantage of crystal defects, which are partial imperfections in the regular atomic arrangement of semiconductor crystals. My approach focused on turning conventional practices to my advantage and my design of new materials were recently recognized with the award of the prestigious Young Scientists' Prize* for the Commendation of Science and Technology by the Minister of Education, Culture, Sports, Science and Technology. I would not have received this award if it had not been for Hiroshima University's research institutes and centers, and the countless faculty members and technical staff who have nurtured and protected them over the years.
*FY2018 Young Scientists' Prize* for the Commendation of Science and Technology by the Minister of Education, Culture, Sports, Science and Technology in the field of science and technology.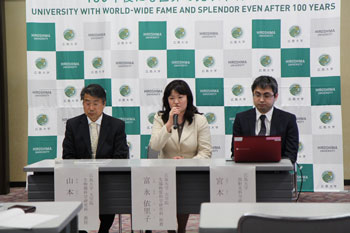 Press conference after being awarded the prize
I believe that Hiroshima University's culture of encouraging young academics to take on challenges made me able to tackle a theme that other researchers were likely to ignore. Faculty members of all ages respect you as a researcher, no matter how young you are, and encourage you to do your best. I am very grateful to be able to work in this kind of environment, where young researchers are given the time and opportunity to produce original research with the support of many people.
Hiroshima University students demonstrate abundant humanity
I feel that HU students have a tremendous amount of humanity, something that cannot be measured by university entrance examination scores, but is an absolute need once you go out into the wider world. The students in my laboratory have a close relationship with faculty members. They are always telling us jokes and are willing to invite us to various social gatherings. While many people tend to say that a growing number of young people in today's society lack communication skills, I think that Hiroshima University students demonstrate the warmth of Japan as it was in the good old days. Trivial everyday communication helps to build a sense of unity among members of the laboratory, leading to good discussions about research, as well.
Every year, I arrange a student experiment involving lasers and optical communications for my third-year undergraduate class and I am always impressed by the expressions of genuine delight on their faces afterwards when they tell me how interesting they found it. This immediate reaction - "That's fascinating!" or "I want to do that!" - is crucial to being able to continue with the research. Coming into contact with students who have their own interests and are keen to work hard on their research for its own sake always inspires me to keep going on my own work.

Assistant Professor Tominaga in discussion with students while measuring the light emitted by a semiconductor in the optics laboratory
Profile
Successfully completed a doctoral program in the Division of Engineering and Design Science at Kyoto Institute of Technology. Held a Japan Society for the Promotion of Science Research Fellowship for Young Scientists (DC1) during this program. Appointed to her current post in 2012 from the position of researcher at the Graduate School of Advanced Sciences of Matter, Hiroshima University. Has concurrently held the post of Specially-appointed Assistant to the President since 2018.
Overview of Research
Specializes in the growth of semiconductor crystals. Working on crystal growth of GaAs-based mixed crystal semiconductors at low temperatures, and the development of novel optical and terahertz devices using crystals that deliberately incorporate impurities or defects. Undertakes ongoing day-to-day research with an emphasis on building up low-key research achievements and pursuing scientific principles that will ultimately lead to the production of semiconductor devices that are useful to society.
(Interview: April 2018)