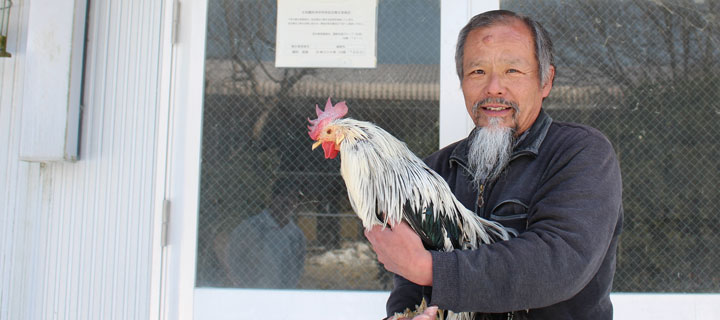 The interview series of "What We've Found Particularly Good About HU" proudly shares with you what's wonderful about Hiroshima University.
A world-class native Japanese chicken research facility on a huge campus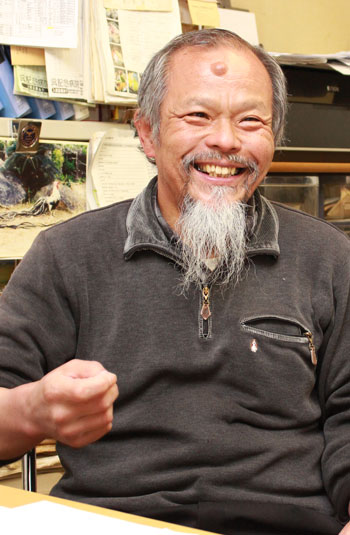 More than anything else, the appeal of Hiroshima University lies in its huge campus.
Since taking up a post at Hiroshima University more than 20 years ago, I have undertaken research focused on native Japanese chickens (chickens native and endemic to Japan). One thing essential to my research is the poultry house, where we raise around 2,000 chickens and quail. About 45 types (varieties) of native Japanese chickens are said to have been confirmed so far and we raise almost all of them at the Higashi-Hiroshima campus. We are very fortunate for having facilities where we can raise and manage our chickens just a few minutes' walk from the laboratory.
At the "Conservation and Breeding Facility for Native Japanese Chickens" we raise extremely rare chickens, such as the Japanese Extremely Long Tail Chicken (Tosa-no-Onagadori), which is a nationally designated special natural monument. His Imperial Highness Prince Akishino once visited to take a look around. I believe that this is one of Japan's biggest native Japanese chicken research facilities and is among the best in the world.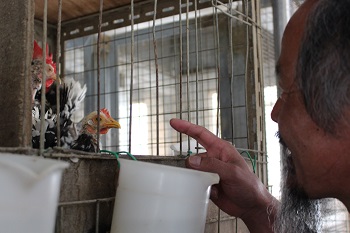 Professor Tsudzuki talking softly to the chickens. Their health must be checked every single day.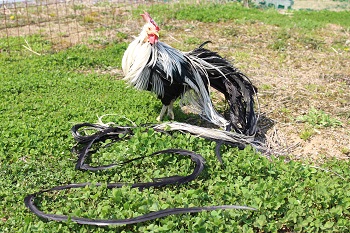 A Japanese Extremely Long Tail Chicken. Its tail can grow to be up to 11 meters in length!
World-class! The project research center supporting the development of Japanese chickens
Hiroshima University recognizes and supports distinctive research through its "Project Research Center" system. In 2010, my research team, which has worked on the challenge of developing improved breeds of Japanese chickens, was granted permission to form the Japanese Avian Bioresource Project Research Center. Our activities as a center have provided opportunities to publicize our research more widely outside the university as well, which is great.
You might not realize it, but almost all the eggs and chicken that we see in the supermarkets are from poultry which, if you trace its ancestry, originates in other countries. Our food self-sufficiency ratio from purely Japanese chickens is said to be about 7% in the case of eggs and about 1% in the case of chicken meat. In my day-to-day research, I am working on creating a world-class variety of unique Japanese chicken, to increase our food self-sufficiency ratio for Japanese chicken so that we can avoid being dependent on imports.
Conventionally, almost all varieties of native Japanese chickens were fancy chickens, which laid few eggs and offered poor meat productivity. The objective of my research is to use a technique called quantitative trait loci (QTL) analysis of chicken chromosomes to identify the location of the genes (gene loci) governing whether or not a bird produces eggs and those associated with meat production. If we can ascertain the location of the genes, we can carry out selective breeding to increase egg yield and improve meat productivity (produce chickens with larger bodies). The eggs and meat from native Japanese chickens are really delicious.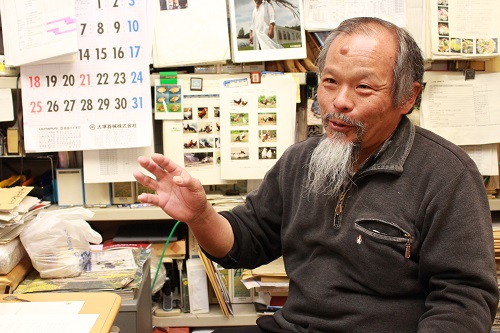 Deriving inspiration from the enthusiasm of my students
The students in my laboratory always help me out. My students have a roster system for managing the rearing of our around 2,000 birds, taking care of them through the fierce heat and humidity of summer and the bitter cold of winter, even during the New Year and o-Bon (mid-August) holidays. Some of my graduate students demonstrate an amazingly high level of motivation toward our research, helping to drive our laboratory forward.
At the moment, some of those enthusiastic students and I are undertaking an in-depth study to investigate what makes the meat of native Japanese chickens so tasty. This is an academic-industrial collaboration initiative aimed at producing an entirely new, delicious variety of native Japanese chicken by crossbreeding male and female birds of different varieties, based on the knowledge and experience that we have built up over the years. I find myself being drawn in by my students' ardent desire to help the local community by creating an entirely new chicken. They proactively lead our laboratory, which is very encouraging and really helps to inspire me.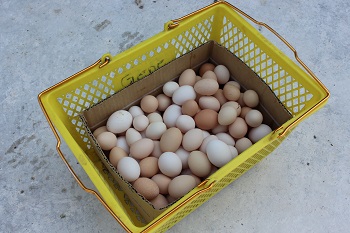 Freshly laid eggs. Students collect them when they do their rounds of the poultry house.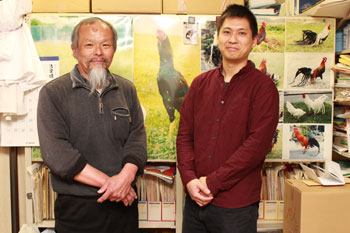 Professor Tsudzuki with his student Atsushi Takenouchi (successfully completed a doctoral program in March 2018).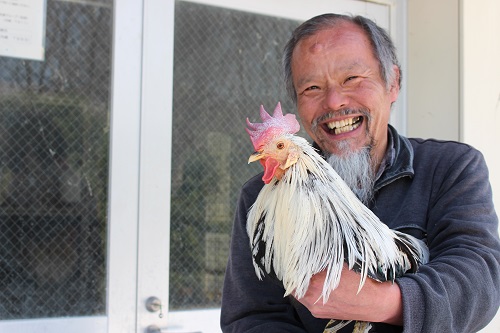 Profile
Completed a doctoral program at the Graduate School of Agriculture, Nagoya University. Appointed to his current post in 2004 after holding the posts of Special Postdoctoral Researcher at the Japan Society for the Promotion of Science; Assistant Professor at the Department of Laboratory Animal Science, College of Agriculture, Osaka Prefecture University; and associate professor at the Graduate School of Biosphere Science, Hiroshima University. Currently, holds the post of professor in the Graduate School for International Development and Cooperation.
Overview of Research
Specializes in animal breeding and genetics. Currently working on the use of QTL analysis to identify the gene loci governing the formation of useful genetic traits, with the aim of developing improved breeds of Japanese chickens to increase the nation's food security. Serves as the director of the Japanese Avian Bioresource Project Research Center, which seeks to protect native Japanese chickens, maintain their genetic diversity, and pass on the culture of native Japanese chickens to future generations. His enthusiasm for his research is fueled by his desire to teach people how wonderful native Japanese chickens are!
(Interview: March 2018)