Hiroshima University changes
In April 2020, the personnel system at Hiroshima University is going to change. Since April 2019, Hiroshima University (HU) has made an open job offer by the new system.
In university in Japan, it is considered problematic that many junior-positioned faculty members are put various fixed-term (few years) posts, so they cannot dedicate themselves to mid-and-long term research and that there are not enough fair chances because of the opaque personnel system.
We hope that HU's new faculty personnel system will make a change to the environment surrounding Japanese faculty members, especially junior-positioned faculty members as a frontier.
HU's original new tenure track system to be introduced in April 2020
In principle, all the future faculty members are going . Associated professors, lecturers, or assistant professors at Hiroshima University will be subject to a HU original new tenure track system.
This new system is assumed that the recruited person will settle down in one place so that he/she can dedicate himself/herself to research and education, in accordance with his/her proposed research plan that is intended to bring about a breakthrough in the new research area.
Therefore, when processing an application for recruitment, we evaluate not only each applicant's performance on research/education, but also the contents and the future scope of his/her research plan. Thus, we check whether or not the applicant's research plan envisages a mid-to-long term (i.e. about 10 years) in scope, exceeding the tenure-track period. At the time of the examination for the tenured promotion, we evaluate the applicant's achievement during his/her term at HU and the future prospect of his/her research in a comprehensive manner.
With its open rules in place, Hiroshima University has also reformed its in-house promotion system.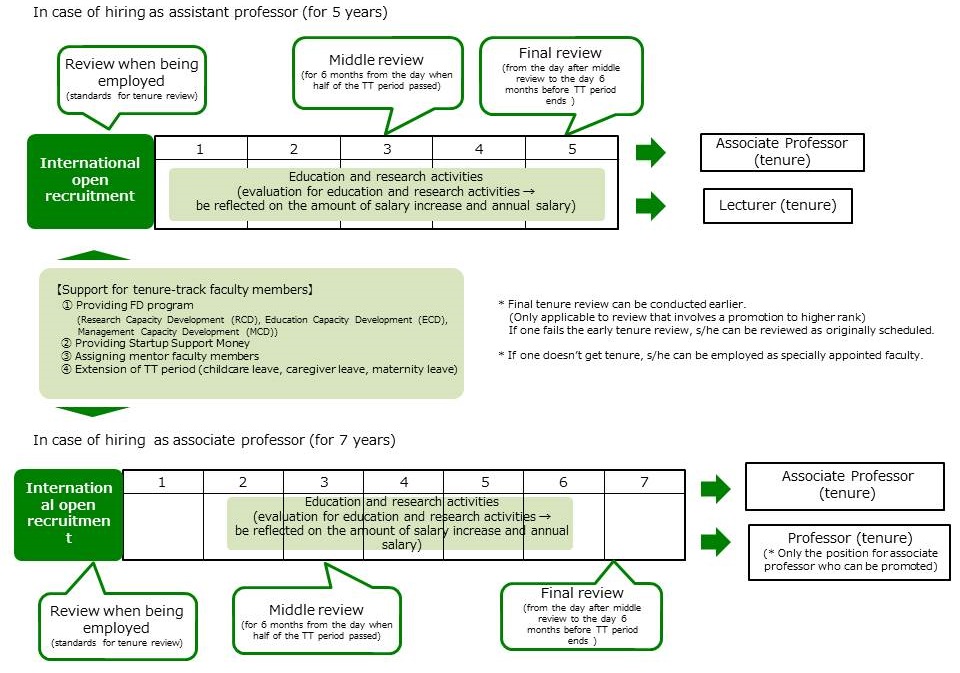 Career Tracks for Faculty Members (example)
Standards vary depending on disciplines and class of positions
Standards for hiring and tenure vary depending on disciplines and they are set by class of positions (Professor, Associate Professor, Lecturer, and Assistant Professor) based on the standards which HU faculty members are to meet. They reflect the characteristics of class of positions and disciplines and are fair standards which indicate the quality and quantity of the research achievements. HU has also reformed its in-house promotion system.
HU's unique indicators that tell where the faculty members stand regarding their goals in research and education
At Hiroshima University, we have two unique indicators called AKPI and BKPI.These indicators have been developed to see objectively where Hiroshima University stands regarding its targets.
One of such targets includes Hiroshima University to be ranked into the "Top 100 Universities" in the World University R ankings.The University aims to achieve such target in ten years, while monitoring its achievement process by referring to AKPI.
Another target set by the University is to become an institution where its faculty members are able to conduct their research and education in a lively manner." Through its quantified value, BKPI can tell you where Hiroshima University stands regarding this target.
At Hiroshima University, all the faculty members are affiliated with the Academy of Hiroshima University. By translating each faculty member's research and education activities into AKPI and BKPI, you can tell where we stand with "the targets" of Hiroshima University."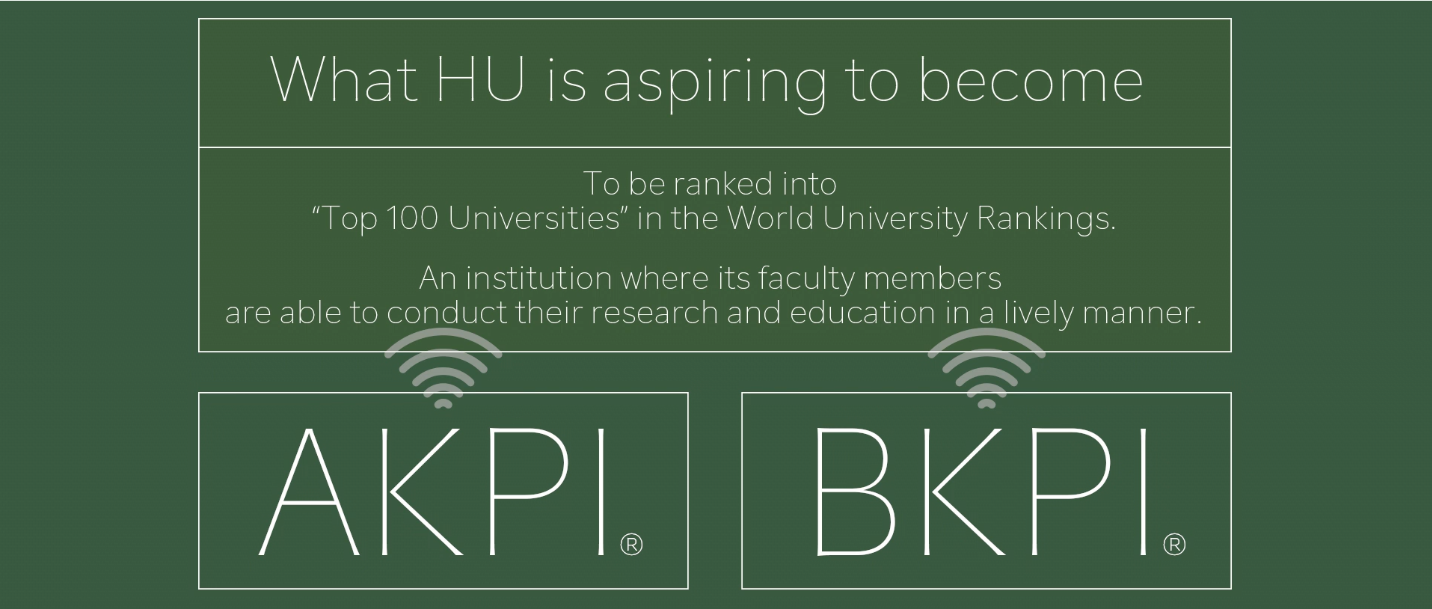 Support system that enables the faculty members on tenure track to play active roles with a sense of security
By providing startup support money and assigning a mentor* to each newly-recruited faculty member on tenure track, HU has developed an environment where such faculty member can engage himself/herself in research activities independently.
When life events (childbirth, childcare, nursing care) occur during their tenure-track period, it can be extended for a certain period depending on the period for the leave.
In case the recruited member fails to secure his/her tenure, he/she is able to extend his/her terms of employment up to one year as a specially appointed faculty member from the day following the date on which the existing employment contract for the tenure-track position expires.
HU faculty's voices about the new personnel system(※1:20-)