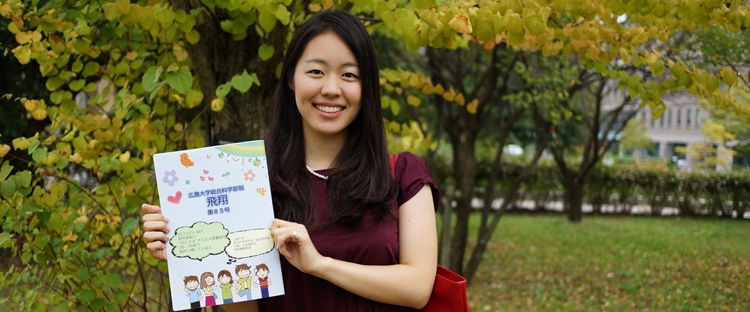 2nd Year, Environmental Science program, Faculty of Integrated Arts and Sciences
Mizuki Kobayashi
<Graduated from Shizuoka Prefecture, Futaba High School>
"HU Student Voices" gives our prospective students an insight into the perspectives of HU students. As the 15th interview in this series, we talked to Mizuki Kobayashi, a 2nd year student studying at Faculty of Integrated Arts and Sciences.
Ms. Kobayashi chose the faculty of Integrated Arts and Sciences because she wanted to expand her viewpoint across arts and sciences. She visited Malaysia for "Natural Environment Training" and participated in Higashi Hiroshima city's forest conservation movements. She is also exhibiting leadership as the chief editor of Integrated Arts and Sciences public relations magazine "Hishou". We asked her how she studied for the entrance examination, about Hiroshima University's classes and teachers, and her campus life.
What triggered you to apply for Integrated Arts and Sciences?
In my first year of High school, I had a difficult time deciding whether I wanted to go into the Arts course or Sciences course. In the end, I chose the Arts, but I actually wanted to learn comprehensively from both angles. Another reason is because I love living things. I have a strong interest in problems related to the "Natural environment" and "Ecology". Hiroshima University's Integrated Arts and Sciences has a highly professional Environmental Science program. I thought it was perfect for me.
You didn't think coming to Hiroshima from Shizuoka was far?
I applied for a different university after the first entrance examination. I applied for Hiroshima University in the second entrance examination. Compared to the first university, Hiroshima University was further away from my home, but I wanted to go to a national university and it was my last chance so I was determined to pass the entrance examination no matter what. I didn't think much about the distance.
When did you start studying for the entrance examination?
I started earnestly studying before the summer vacation of my third year in High school. I retired from club activities in April of my third year, but my "extreme study mode" didn't turn on right away.
How did you study for the examination?
For subjects that required a great amount of memorization such as Japanese history and biology, I used study-aid books and workbooks to study ahead. Knowledge would come in more smoothly because class would be like a review.
My school was a combined junior and senior high school. From junior high school, I had classic literature classes so I was good at Japanese (subject). However, I was not very confident about English so I used correspondence classes and one-to-one tutoring.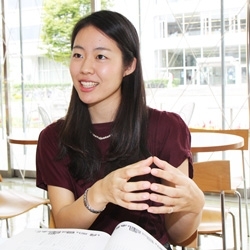 Ms. Kobayashi looks back on the days studying for the entrance exam
How did you keep your motivation up while studying for the entrance exam?
I kept my motivation high by talking to my friends during break time. I studied mostly in school with my friends.
Do you remember the very day of your entrance examination?
On the year that I applied for Integrated Arts and Sciences, there was an English test and interview for the second part of the examination. We first read a modern Japanese writing and answered questions about the content in the interview. After answering a question, the interviewer asks you even deeper questions about your answer. It was very nerve wracking but I told myself, "There will be no meaning for all the studying if I can't display that right now!" and I was able to finish the interview well.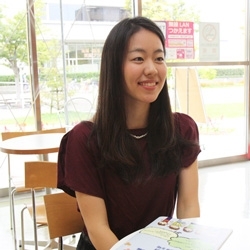 Ms. Kobayashi says she talks quite often with teachers
Will you tell us more about after starting Hiroshima University? How are the teachers and classes?
Many teachers have a welcoming and friendly vibe. I sometimes visit the teacher's research room after class to have a chat with them. There are some subjects that I don't understand well (like chemistry) because I was in the Arts course in High school. However my teachers carefully explain everything to me if I need any help, so I have faced no difficulty so far.
Even if it's about the same problem, I can learn from a different theme or approach, so your perspective continues to open up.
I really enjoyed the class "Conservation Ecology" which is about how we can protect animals that are in danger of extinction. And class "Rhizosphere Science" which is about root nodule bacteria that play a vital role in nature's nitrogen cycle.
Did you take any classes outside of your faculty?
Yes, I participated in the Faculty of Science's "Natural Environment Training". We went to a tropical rain forest in Malaysia to learn about plants and environmental destruction.
You are so active! Do you have interest about foreign countries?
I love the atmosphere of South East Asia. A little before this training program, I went to Indonesia's east Java province, Malang, for a two-week study abroad. It was with Hiroshima University's START program for freshmen. Some of the friends that I made in Indonesia studied abroad in Japan so we became even closer.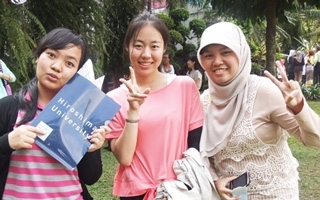 A picture with her Indonesian friends during the START program
I heard that you are the head editor for your faculty's public relations magazine, Hishou. What gives you a sense of satisfaction and what are the difficulties of your position?
It is very fun having the opportunity to interview your faculty's teachers and alumni. It gives me a chance to think about my own future when I meet alumni from my own faculty.
I was the head editor for issues 85 and 86, but it was harder doing issue 85. There were many things I didn't know because it was right after the senior members retired. But with the help of the editing team, I think we were able to create a valuable "Hishou"!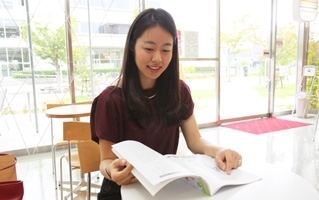 Ms. Kobayashi looks through the "Hishou" issue
Do you belong to any other circles?
I am also part of Student Volunteer Group "OPERATION Tsunagari". I volunteered to help children do their homework during long vacations and revitalize Higashi Hiroshima city's Kawachi area. I also went to Miyagi prefecture during spring break to support the reconstruction after the earthquake.
I also participate in Higashi Hiroshima city's forest conservation movements. For example, we thin out Higashi Hiroshima city's Ryuuouzan (mountain). I participated in the project after hearing about it in class and I had such a fun experience and met such wonderful people, I decided to continue participating in the project.
※When there is a overcrowding of trees, you thin out the number of trees to help grow a healthy forest.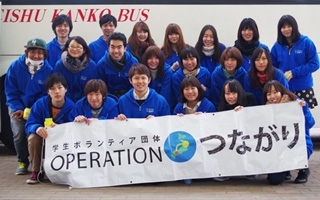 "OPERATION Tsunagari" reconstruction support for the earthquake, 8th group members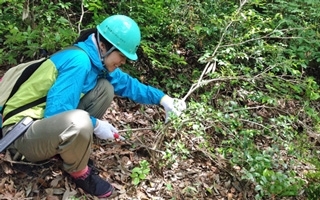 Thinning out procedure in the forest
What are your future goals and dreams?
In the future, I want to become a person that can approach and solve environment issues from a point of view that exceeds the boundaries of arts and sciences. I hope I can make use out of the various things I have learned at Hiroshima University.
Lastly, can you give a message to prospective students that are wishing to study at Hiroshima University?
At university, you experience countless special encounters that you would have never thought in high school. Your perspective and opportunities continue to widen every time. I faced many struggles when I was studying for the university entrance exams, but I feel that experience was all worth it because it made my campus life more meaningful. I hope you can also envision a fun campus life ahead of you and you can overcome the studying for exams! I'll be waiting at Hiroshima University!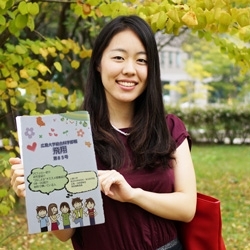 September 30, 2014
Articles: i
Photograph: N (PR Group)
Location: la place (Mermaid Café Hiroshima University)