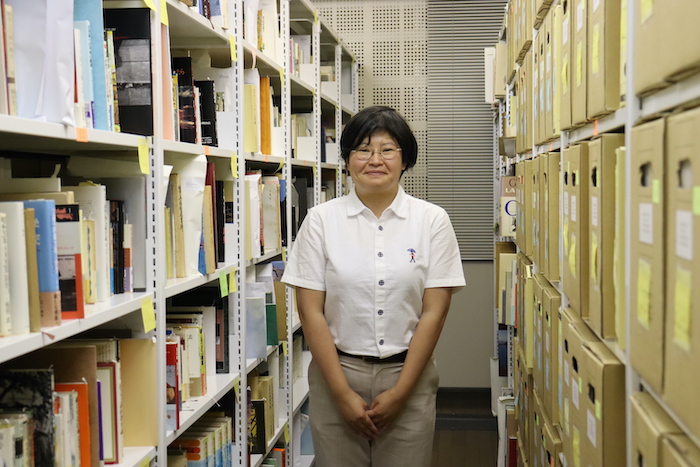 Kaori Itoh, a member of the Hiroshima University Archives, became an assistant professor at Hiroshima University this spring. She spoke with us about her studies at Kyushu University's School of Letters, her doctoral degree, her year and a half in Germany, her work in the Archives, and her book, which was published in February 2022.
Please tell us about the Hiroshima University Archives
The Hiroshima University Archives collects, organizes, and preserves important documents, as well as materials related to the history of the university, and makes them available to the general public.
When did you join Hiroshima University and what kind of work do you do now?
I was appointed in May 2019 and just started my fourth year in this position.
I am in charge of "private documents and records" within the archives. My main task is to collect, organize, and make available to the public personal materials of former faculty members and alumni of the university. In addition, I am also in charge of lectures on the "History of Hiroshima University" and organizing exhibitions during Homecoming Day to let many people know about the university's history. I always hope that knowing the long history of Hiroshima University, which is the result of the efforts of many predecessors, will give students and faculty members a sense of identity as a member of Hiroshima University and make them proud of being a part of it.
Could you tell us about your background and how you became an assistant professor at the Archives?
I am from Bungo-Ono City in Oita Prefecture. I grew up in a place with lots of nature.
For high school, I went to Oita Uenogaoka Senior High School in Oita Prefecture, and after graduating, I enrolled at Kyushu University. At Kyushu University, I studied modern Japanese history in the School of Letters before moving on to the Masters and Doctoral Programs. During my doctoral period, I studied abroad for a year and a half at a German university before obtaining my doctoral degree in March 2019, and shortly after, I was hired as a training assistant professor at the Hiroshima University Archives. Perhaps I was hired because of my experience working as a part-time or contracted researcher during my graduate and post-doctoral years at the Archives of Kyushu University. I also had experience working in departments of Yanagawa City and Fukuoka City involved in the compilation of municipal histories, which I believe also contributed to getting this position at Hiroshima University.
Why did you choose to study at the School of Letters at Kyushu University?
In junior high school, I had a strong interest in history due to the influence of my social studies teacher. I loved books and often read historical novels by authors such as Ryotaro Shiba and Seicho Matsumoto.
When I was a high school student, I was not quite sure of my future path, but I decided major in humanities in university because of my love for reading.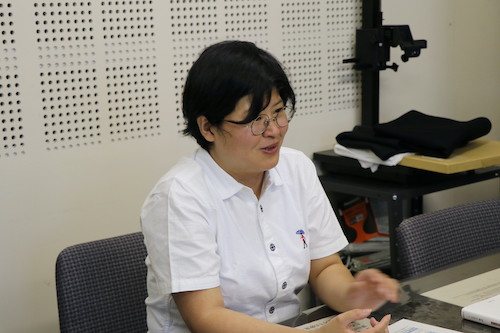 Why did you decide to enter a doctoral program?
I did briefly look for a job at a publishing company, but I was more passionate about becoming a researcher, so I decided to go on to do my master's degree rather than leaving academia. But because my master's thesis did not go as well as I had hoped, and I did not have good prospects for my research, I was not quite sure whether to go on to a doctoral program or not. However, I could not give up on my dream of becoming a researcher, so I ended up going on to a doctoral program.
When I was a doctoral student, my research did not go well for a while, so as a last-ditch effort I decided to study abroad in Germany. I think it is unusual for a Japanese history major to study abroad in Europe, but I happened to have a senior who had studied there, which was a good reference for me. As an exchange student, I studied for a year and a half at the Department of Japanese History in the Faculty of East Asian Studies at Ruhr University Bochum in the Ruhr region, which is famous for its industrial area. This was a turning point for me and allowed me to encounter the theme of "parliamentary diplomacy," on which my current research is based.
I visited Geneva, Switzerland, three times during my study abroad because the core documents of prewar "parliamentary diplomacy" were there. The archives of the Inter-Parliamentary Union, an international organization of national parliaments, have over 100 years of history to date. I was very fortunate to have encountered the theme of "parliamentary diplomacy" in prewar Japan, something that probably no one else had ever done.
Wasn't it tough to study in Germany?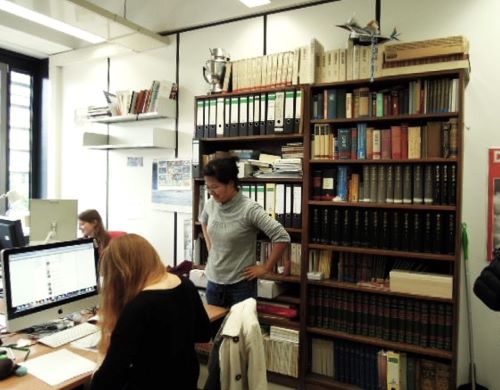 A scene while studying in Germany
I studied abroad without knowing German, so this was probably the most I have studied in my life, both in terms of language and research. Besides German, I also had to learn French to decipher the handwritten documents I collected in Geneva. It was a lot to learn, but the German food — potatoes, beer, and sausages — suited me exquisitely and saved me. And I was just so lucky to have met a wide variety of people during this study abroad program, and I feel that this was the best part of my study abroad experience.
Did you discuss with anyone about going on to graduate school?
I consulted with my parents and academic advisor about my career path.
I felt that I was very fortunate to have understanding parents and a kind academic advisor. In particular, I was so lucky to have parents who were understanding because I was always conscious of the burden I was placing on my parents when I went on to become a doctoral student.
Did your research life go smoothly after your study abroad in Germany?
After returning to Japan after my study in Germany, I decided on a research theme, and things started to turn out well, but life was very difficult financially. I think it is hard to become a JSPS Postdoctoral Fellow if your research does not start well as a master's or doctoral student. Continuing research under such circumstances was costly and burdensome both financially and mentally.
On the other hand, the fact that I was able to study in Germany when I was 27-28 years old was extremely timely in terms of my personal development. I was exposed to a different culture and began to think about social issues more often than when I was in Japan. Germans are very open about social issues and they clearly state their views and opinions, and I felt that I understood the gender environment better than I did in Japan. I also thought that the culture values personal time. As an example, there was an incident at the city hall where there was a line of people waiting at the counter, and when I finally got to my turn at the end of the line, the counter was closed because it was after working hours. This is something that is not so common in Japan, and I was able to experience the difference in culture.
Please tell us about your current research and activities?
I am researching the history of Diet member diplomacy in Japan before and after World War II, covering the period from its beginnings (the early 20th century) to around the 1970s. Although parliamentary diplomacy is often criticized as a waste of taxpayer money, I am attempting to evaluate from a historical perspective the significance of Diet members going abroad, attending international conferences, and gaining various international connections and experiences.
The results of my research to date have been compiled and published in "The Inter-Parliamentary Union and Modern Japan" in February 2022.
How was the reaction to your first publication?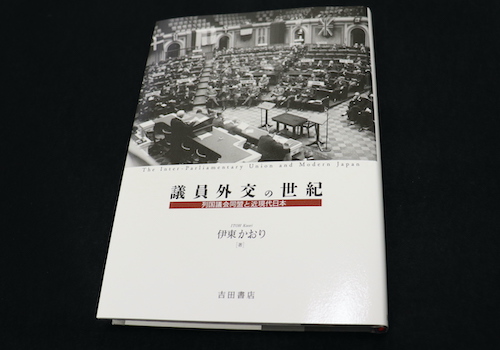 Book published in February 2022
The Inter-Parliamentary Union and Modern Japan
The book was also reviewed in the "Yomiuri Shimbun" and received favorable reviews from researchers who are considering research in this field. I am thrilled to have received a review of my book in a general newspaper rather than a specialized paper. In addition, I have been approached by several academic journals about reviewing my book, and I am trembling with anticipation as to what kind of recognition I will receive.
Did you encounter any difficulties when publishing?
One of the major difficulties I faced was the COVID-19 pandemic. My doctoral dissertation was on prewar Japan, so after receiving my degree, I was thinking of adding postwar findings from my overseas research, but it was difficult to collect materials because it was difficult to travel to Tokyo and other urban areas in Japan, let alone overseas, due to the pandemic. Under such circumstances, I was saved by the plentiful digital resources available at the National Diet Library, the Diplomatic Archives, the National Archives of Japan, and other institutions, as well as the presence of the Hiroshima University Library. I was able to utilize the library at Hiroshima University, which was a great source of intellectual infrastructure, and without being at a university the size of Hiroshima University, it would have been impossible for me to publish my writing during the pandemic.
The fact that I was able to publish the book was the result of a combination of luck and fate, but publishing the book made me keenly aware of the importance of putting the results into shape and getting them out into the world. During the writing of the book, I lost confidence many times and suffered from strong anxiety, but the phrase, "Done is better than perfect," helped me a lot.
What are you planning for the future and what are your career plans?
Since I am currently an assistant professor under a tenure-track system, I will be reviewed for tenure in five years, and I believe that I must first accumulate achievements in order to pass the review process.
My goal is to continue to deepen my research on "parliamentary diplomacy" and publish another monograph in a few years.
What do you think is needed to make graduate school more pursuable to students?
I think the biggest factor that makes students anxious about going on to graduate school is the living environment and post-doctoral problems after entering. I, too, had a very difficult life for the first five years after returning to Japan, and I think it is very difficult to solve these problems. Hiroshima University is actively working on this, but I believe that financial support for graduate students and post-doctoral researchers is essential. However, I alone cannot solve major social problems, so for now, as something I can do for the students in front of me, I try to convey to them the joy of continuing research. The truth is that my worries as a researcher are endless, but I think that if I keep a gloomy face, students who want to go on to higher education will not have any hope.
What advice would you give to students who are thinking about going on to doctoral studies?
I know that many of you are in a period of uncertainty, but I hope that you will always cherish the joy of refining your knowledge and developing original knowledge, which you must have felt when you first decided that you wanted to proceed to higher education.
Some of you may be hesitant to go on to higher education because you are not confident in your research right now, but I believe that no research is perfect. Research is a marathon, not a short-distance race, so even if you are not 100% of your ideal self at the moment, I hope you will not put too much pressure on yourself and believe in your potential and immerse yourself in the world of research.
Also, I think that there are many things you can see and learn by studying abroad, so I encourage you to find an opportunity to have this experience.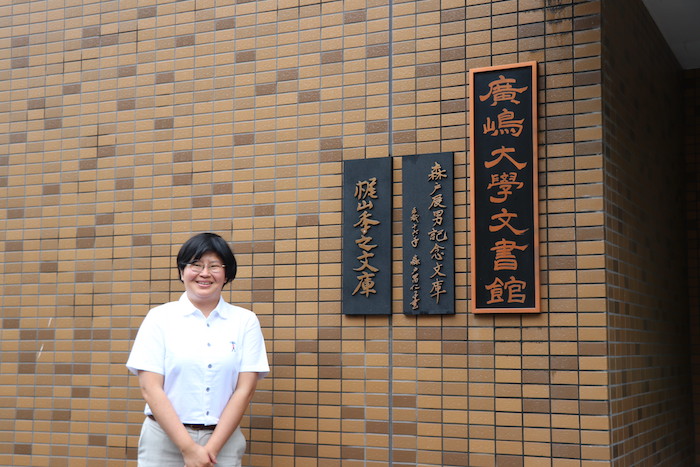 June, 2022
Interview and Photograph: Public Relations Group (G/Y)
Location: HU Archives