Located in the University of Guanajuato
Hiroshima University launched its Guanajuato Center on March 1st, 2017, in the premise of University of Guanajuato. The Center was launched in order to realize the following objectives as a Top Global University.
To promote constant exchange of researchers and students with universities in Latin American countries (Spanish-speaking countries)
To help Japanese and local companies in Mexico develop their human resources through seminars and furthermore extend the relationships to collaborative research with the companies
To enhance our university's international reputation
Guanajuato State and Hiroshima Prefecture have concluded a friendship alliance, which led Mazda, a Hiroshima origin automaker, and its supplier companies to expand their businesses in the State. Moreover, as Hiroshima University and University of Guanajuato have concluded a faculty-level agreement (Institute of Engineering) followed by an inter-university international cooperation agreement, Guanajuato is a suitable place for Hiroshima to develop international industry/academia/government collaborations.
This center is the 13th overseas research base of Hiroshima University.
As the activity hub for the industry-academic-government collaborations in Latin America, we will utilize the center to strengthen our international industry-academic-government collaboration network with local companies, collaborate with local universities such as the University of Guanajuato, and recruit international students.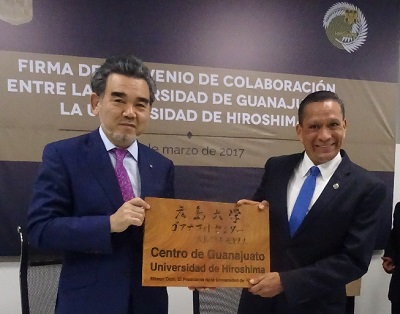 Hiroshima University President Ochi and University of Guanajuato Rector General Guerrero