Location: Kenyatta University, the Republic of Kenya
In March 2007, Hiroshima University concluded a university cooperation agreement with Kenyatta University. On February 6, 2009, the Kenyatta University-Hiroshima University Collaboration Resource Center (KU-HU Collaboration Resource Center), a research center on international cooperation, was established on the Kenyatta University campus in Nairobi, Kenya.
Our university plans to use this Center to further develop the present researcher exchanges with Kenyatta University as well as the results of the "Africa-Asia University Dialogue for Basic Education Development" Project. HU also plans to conduct international joint research ventures, beginning with the creation of an education and research network between African and Asian universities. Discussions are also being held on possible future student internship programs.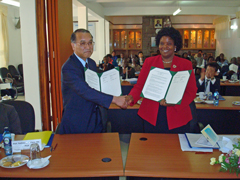 President Asahara and the President of KU, Prof. Olive Mugenda, signed a MOU on the Center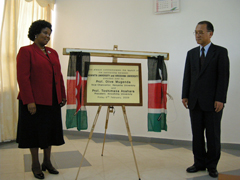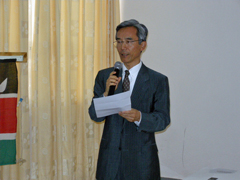 Japanese ambassador to Kenya, H.E. Shigeo Iwatani's speech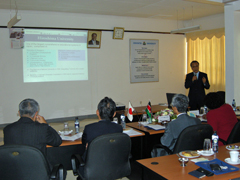 President Asahara's presentation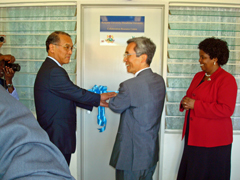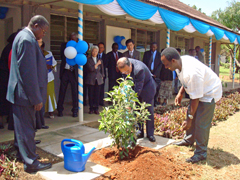 Planting of a commemorative tree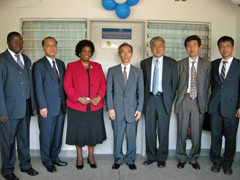 All concerned at the door of the Center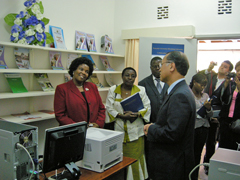 At the opening ceremony, current Japanese ambassador to Kenya, H.E. Shigeo Iwatani, was in attendance, as President Asahara and the President of Kenyatta University, Professor Olive Mugenda, signed a memorandum of understanding on the Center, followed by the planting of a commemorative tree and the unveiling ceremony. There were close to 40 people in attendance from outside of Hiroshima University and Kenyatta University. Participants included members of JICA (Japanese International Cooperation Agency)'s Kenya Office, members from the Nagasaki University Nairobi Research Station KEMRI-NUITM Project, and members of the Japan Society for the Promotion of Science (JSPS) Nairobi Research Station, as well as members from the Hiroshima University Kenyan Alumni Association and former JICA trainees who received training at Hiroshima University. Together with celebrating the opening of the ceremony, various discussions were held about the future development of the Center.