On May 22nd 2021, the 7th Japanese Essay Speech Contest was held online in Shanghai and Japan.
This was the seventh time that Hiroshima University (HU), Shanghai International Studies University (SISU) and Komaru-Koutsu Foundation have co-hosted this essay speech contest, with this year's theme being "Transportation". The contest invited applications from universities students in and around Shanghai. 65 students from 7 universities submitted their essays, 31 of which were recommended by the universities and 7 finalists were selected through the essay writing screening and went on to present their speeches.
This contest is usually held at SISU, one of the inter-university exchange agreement partners of HU. However, this year's event was held online between the Headquarters of Fukuyama Transporting Co. and HU, with the contestants, special guests and other participants participating and watching from individual locations due to COVID-19.
The contest began with an opening speech by Mr. Shigehiro Komaru, President of the Komaru-Koutsu Foundation and President of the Fukuyama Transporting Co., Ltd., followed by an address by Mr. Masafumi Oku, Deputy Consul General of the Consulate-General of Japan in Shanghai and Professor Jie Gao, Dean of the SISU School of Japanese Studies.
The 7 selected students then presented their speeches in fluent Japanese. After careful consideration, Mr. Dong Le from SISU was selected to be the first prize winner, and Mr. Haiyue Jiang from Huaiyin Normal University won the "Consul-General of Japan in Shanghai Special Award".
At the end of the contest, closing remarks were given by HU Executive Vice President Toshiyuki Sato. The participants, approximately 60 people, both in-person and online, listened enthusiastically until the very end.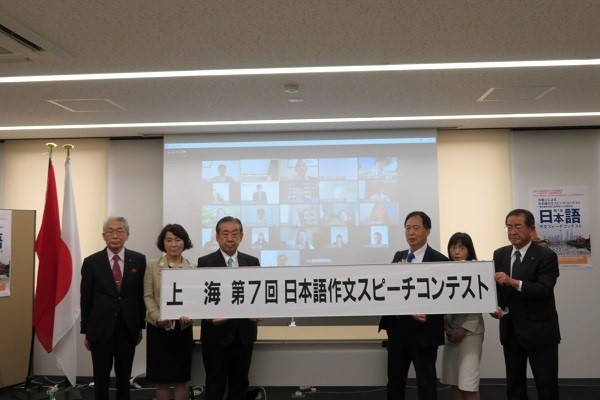 Group photo at the venue in Japan
[Inquiries]
Global Initiatives Group, Hiroshima University
TEL: 082-424-3505