On August 6, 2021, the day of the anniversary of the atomic bombing, the Hiroshima University Peace Project "Peace from the Perspective of Art" was held at HU's Higashi-Senda Campus in Naka ward, Hiroshima city. During the event, a lecture was given by Mr. Sunao Katabuchi, director of "In This Corner of the World", an animated film set in Kure during World War II. A cello made in part from trees that survived the atomic bombing was also unveiled.
Following opening remarks by HU President Mitsuo Ochi, Mr. Sunao Katabuchi, who received The Ministry of Education, Culture, Sports, Science and Technology Award for "In This Corner of the World" gave a lecture online, titled "Between 76 years ago and 1021 years ago: Women who found a place to work in difficult times". Upon thorough implementation of COVID-19 infection prevention measures, around 70 students had the opportunity to listen to his lecture at the venue.
The cello, made in part from trees and bricks which survived the atomic bombing, was unveiled. After an explanation of the project by Mr. Rebun Kayo, a researcher at HU, faculty members and students performed using the unveiled cello, and a violin and viola, which were also made in part from a-bomb trees in previous years. The performance conveyed a renewed desire for peace.
H.E. Mr. Ayman Aly Kamel, Ambassador of Egypt to Japan and Dr. Hany A. El-Shemy, Cultural Councellor of the Egyptian Embassy in Tokyo, were also in attendance at this year's Peace Project, which included a signing ceremony for the establishment of the Hiroshima University - Galala University Peace Memorial Center. During the ceremony, President Ochi presented to Mr. Kamel a certificate of appreciation.
The Peace Project has been held on August 6 every year since 2017, with the aim of passing on the memory of the atomic bombings and playing a role in building a free and peaceful international society that fosters diversity, based on the pursuit of peace, which is the first of the HU's five guiding principles.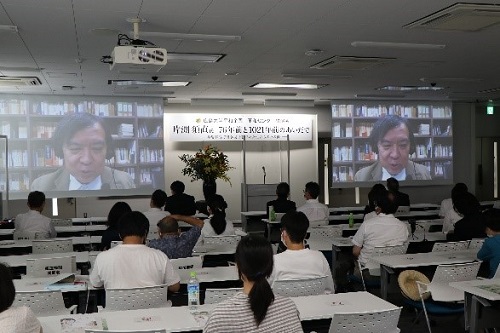 Online lecture given by Director Sunao Katabuchi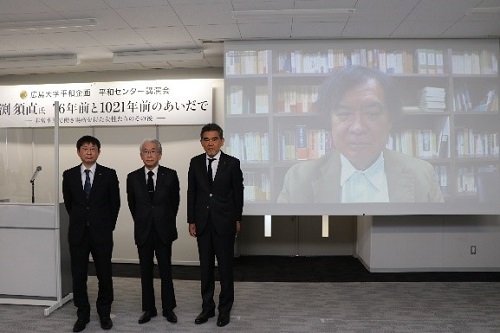 Commemorative photo of Director Sunao Katabuchi, President Ochi, and others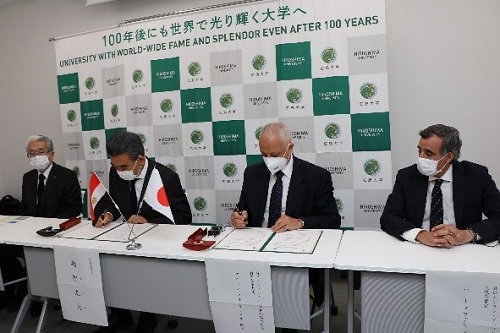 Hiroshima University - Galala University Peace Memorial Center Establishment Signing Ceremony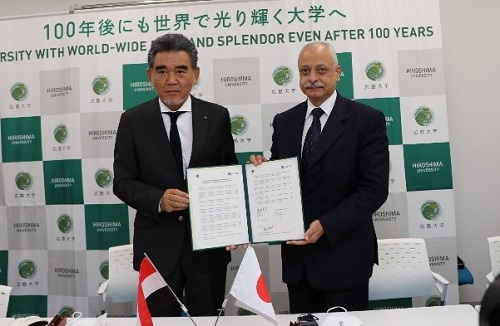 President Ochi presenting a letter of gratitude to Ambassador Kamel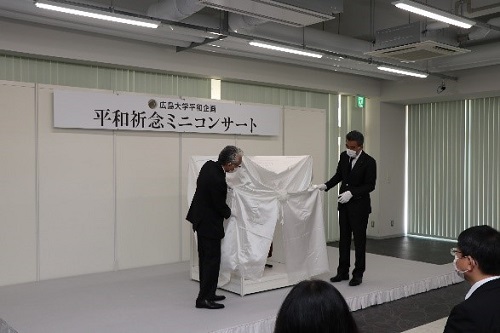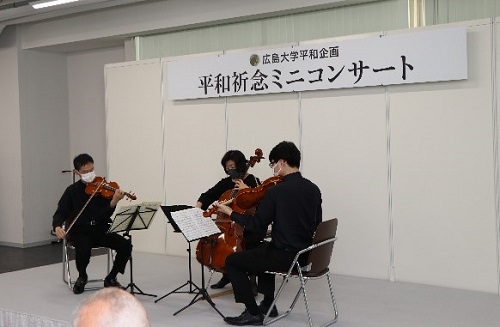 Performance using the instruments made from a-bomb trees
[Inquiries]
Department of International Affairs, International Office,
Hiroshima University
TEL:082-424-2028
E-mail:g-initiative*office.hiroshima-u.ac.jp (Please replace * with @.)