On September 23, 2021, the award ceremony for the first Japanese Book Review Contest was held in Ulaanbaatar State University (USU) in Mongolia, where the Hiroshima University Mongolia Research Center is located. The aim of this contest is to allow Japanese learners to improve their vocabulary, writing ability, reading comprehension and other language competencies through reading, while also building up their ability to think and express themselves.
The contest received backing from the Embassy of Japan in Mongolia and was co-organized by the HU Mongolia Research Center and USU. Judging was completed in April of 2021, but the award ceremony was postponed due to the impact of COVID-19.
There were two categories within the contest, "Novels and Stories" and "Manga", with the Grand Prize of the "Novels and Stories" category being awarded to Ms. Buyanjargal Soyol-Erdene of the National University of Mongolia, School of Law/Nagoya University Research and Education Center for Japanese Law in Mongolia.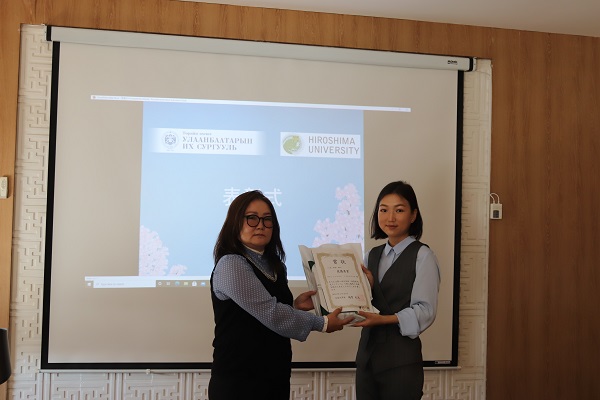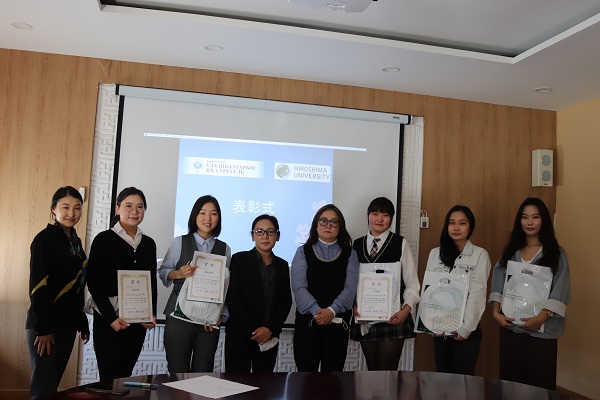 Commemorative Photo at the Venue
[Inquiries]
Global Initiatives Group, Hiroshima University
TEL: 082-424-3505
Email: kokusai-kyoten*office.hiroshima-u.ac.jp
(Please replace * with @.)