On January 15th 2023, Dr. Baigenzhin Abay Kabatayevich, Chairman of the Management Board of JSC "National Scientific Medical Center" in Kazakhstan, payed a courtesy call to the Higashi-Hiroshima Campus of Hiroshima University (HU) and engaged in discussion with HU President Mitsuo Ochi. The meeting was also attended by Executive Vice President in charge of Global Initiatives, Shinji Kaneko, and Executive Vice President in charge of Kasumi Campus, Faculty Personnel and Public Relations, Junko Tanaka.
During the meeting, views were exchanged on the possibility of research collaboration and student exchange between HU and Kazakhstan.
The exchange between HU and higher educational institutions in Kazakhstan goes back to an agreement with the Regional Oncological Dispensary of Semipalatinsk City in 2001. Since then, six inter-university agreements have been concluded between HU and those institutions concerned.
Going forward, we hope that through this visit, collaboration with universities and research institutions in Kazakhstan will be furthered.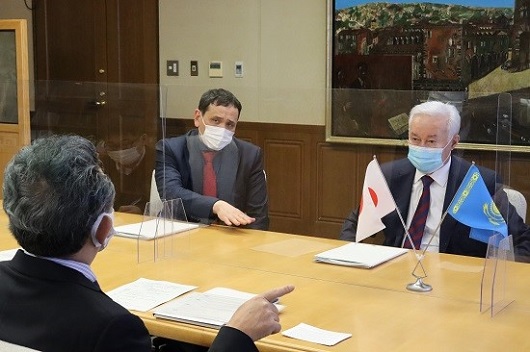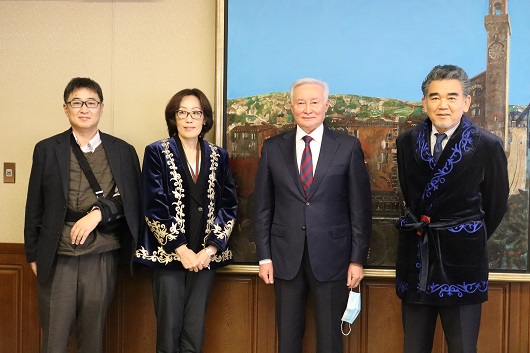 Inquiries
Global Initiatives Group, Hiroshima University
TEL: 082-424-6042
Email: kokusai-kyoten*office.hiroshima-u.ac.jp
(Please replace * with @.)