On February 8th, 2017, Hiroshima University entered into a comprehensive inter-institutional exchange agreement with the National Graduate Institute for Policy Studies (GRIPS).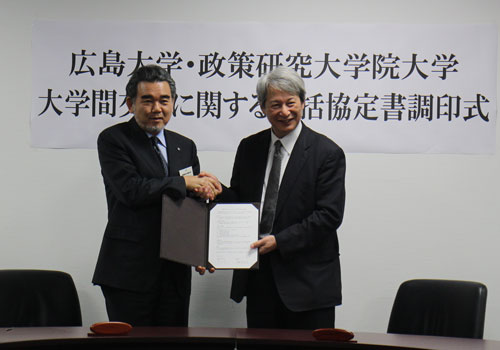 President Ochi (left) and GRIPS President Shiraishi (right) at the signing ceremony
Seven delegates from each university attended the signing ceremony held at the National Graduate Institute for Policy Studies in Tokyo. Among the delegates from Hiroshima University were President Mitsuo Ochi, Executive and Vice President (Industry-Academia-Government and Community Collaboration) Takashi Takata, and Vice President (Reconstruction Support/Radiation Medicine) Kenji Kamiya, while the delegates from GRIPS were President Takashi Shiraishi, Vice President Atsushi Sunami, and Professor Tateo Arimoto.
In his opening remarks, President Ochi said, "Currently, there are great expectations for universities to strive to solve challenges through collaboration with a variety of institutions in society and nurture individuals who will be capable of promoting social innovations and contributing to the improvement and flourishing of society. I genuinely hope that this agreement will bring benefits to both universities; that it will support GRIPS with its future growth and development and help strengthen Hiroshima University's initiatives to become one of the world's leading universities."
In the future, through this agreement, the two universities will make use of their respective strengths and endeavor to share and solve the challenges facing human society. Our goal is to complementarily or synergistically utilize the educational and research resources of both universities to enhance educational and research functions as well as human resource development. This would include activities such as the joint development of educational programs, joint implementation of research projects, exchange of faculty, staff, and students, and the mutual use of university facilities.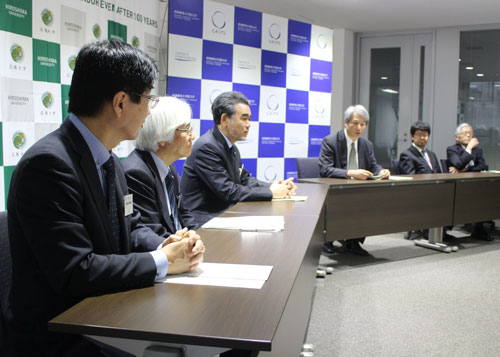 At the press conference after the agreement signing ceremony. From left to right: Executive and Vice President Takata (HU), Vice President Kamiya (HU), President Ochi (HU), President Shiraishi (GRIPS), Vice President Sunami (GRIPS), Professor Arimoto (GRIPS)
Inquiries:
Collaboration Office