On March 23rd 2017, the Vice President of Southwest University in China Prof. Ding Zhongmin visited the Higashi-Hiroshima Campus of Hiroshima University and had a meeting with Executive and Vice President Sato and Vice President Teramoto.
Located in Chongqing, Southwest University is one of the most prominent universities in China. It concluded an inter-university agreement with HU in October 2016. During the meeting, both parties exchanged opinions on student exchange between the two universities, and Southwest University showed interest in dispatching students through HU's "3+1 Program".
After the meeting, guided by Vice President Teramoto (responsible for libraries), they toured the campus and visited several on-campus facilities such as the libraries. It is expected that more active exchanges will be promoted between the two universities in the near future.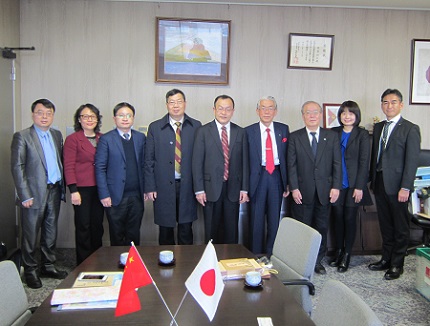 Commemorative Photo of the Participants: Executive and Vice President Sato (4th from the right),
Vice President Ding (center), Vice President Teramoto ( 3rd from the right)
【Inquiries】
International Exchange Group, Hiroshima University