On March 29th 2017, the Hiroshima University Cambodia Alumni Association meeting was held at a hotel in Phnom Penh. Around thirty people attended, including HU Executive and Vice President Makoto Miyatani, Vice Executive Taiji Hotta, Dean of the Graduate School for International Development and Cooperation Takuya Baba, and Vice Dean of the Graduate School of Education Yasushi Maruyama.
In his opening greeting, Executive and Vice President Miyatani said: "in Cambodia there are many former students of HU, which greatly heartens me. HU is striving for the globalization of its education research; in order for this goal to be realized, we hope to progress along with the ongoing support of our alumni." In the following social reunion, participants reminisced about their university days and discussed their current situations, deepening long-standing friendships.
Through the activities of its alumni organizations, HU strives to create strong networking systems with and between its overseas alumni. From now on, we expect furthered interactions between overseas alumni, increased collaboration between HU and its alumni, and a strengthened personal alumni networking system.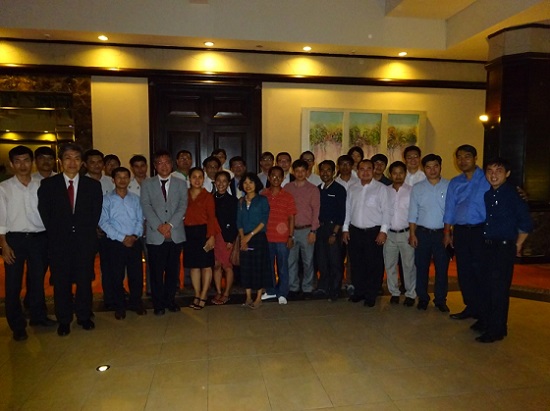 Commemorative Photo of the Cambodia Alumni Association Meeting
Inquiries
International Center
International Exchange Group, International Office, Hiroshima University
TEL: 082-424-6042