On the 6th of April 2017, Hiroshima University renewed its inter-university exchange agreement with the Indonesia University of Education (UPI). President of UPI Prof. H. Furqon paid a courtesy visit to HU President Mitsuo Ochi, and then both presidents signed the agreement.
The Indonesia University of Education is a national university located in Bandung and has various educational ties with HU, especially in the Graduate School of Education and Graduate School for International Development and Cooperation. In 2012 when the exchange agreement was first concluded with UPI, HU accepted exchange students from UPI through its Japanese language and culture short term research program; this was one of the various steps taken towards expanding exchange between the two universities.
Student and research exchange between HU and UPI is expected to continue expanding.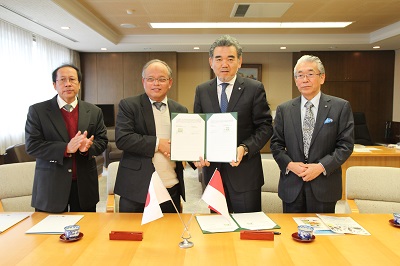 Commemorative photo of President Furqon (left center) and President Ochi (right center) with the exchange agreement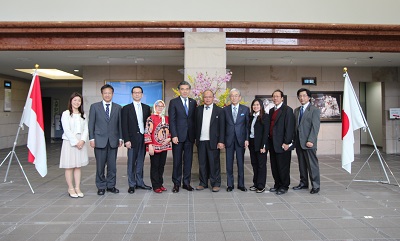 Commemorative photo of event participants
Inquiries
International Exchange Group, Hiroshima University