On August 3rd, 2017, Dr. Bayyinatul Muchtaromah, Dean of the Faculty of Science and Technology of Maulana Malik Ibrahim State Islamic University of Malang (UIN Malang) and Dr. Romaidi, Lecturer of the same faculty, visited the Higashi-Hiroshima Campus of Hiroshima University and met with HU President Mitsuo Ochi.
UIN Malang is an Indonesian national university located in Malang, East Java. This visit was made a reality through the long-standing ties between HU and Dr. Romaidi, an alumnus of the HU Graduate School of Science.
Currently, HU has 1,443 international students from around the world. Among them, 154 students are from Indonesia, making them the second highest number of exchange students after China. During this visit the two parties discussed the future academic exchange, and it is expected that exchanges between the two universities will continue to develop.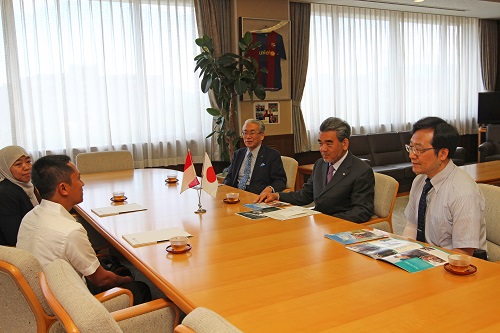 During the courtesy visit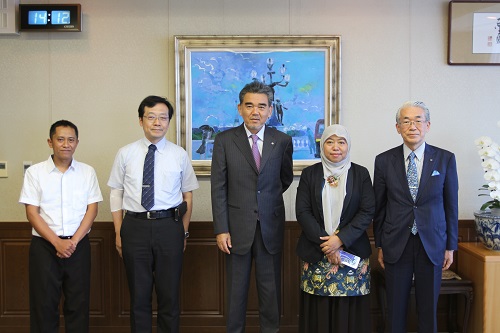 Commemorative photo (from left: Dr. Romaidi, Dean of Graduate School of Science Prof. Tate, President Ochi, Dr. Muchtaromah, Executive and Vice President Sato)
[Inquiries]
International Exchange Group,
Hiroshima University