On October 1st, the opening ceremony for the 2nd batch of students in the Morito Higher Education Institute 3 +1 Program was held at the Hiroshima University Faculty Club, Higashi-Hiroshima campus.
This year, for its second year, the program welcomes a total of 90 students including sixty three 4th year students and twenty seven 3rd year students from universities in China. The new students in suits participated in the opening ceremony looking a bit nervous.
President Ochi said in his opening remarks, "I would like you to acquire not only the knowledge in your specialized field but also some skills to become cultured individuals who will play an active role on the global stage. It is my sincere wish that you will meet many people, work hard and encourage one another, read many books, and then become successful globally."
Ms. Yoko Hiyama, a daughter of the first president Morito – the one the program was named after, participated in the opening ceremony. In her remarks, she said, "You may come up against a brick wall. In such a case, please draw strength from Phoenix, the University's symbol, and value your relationship with others who help you or whom you support."
In the Morito Higher Education Institute 3 +1 Program, Hiroshima University welcomes international students from overseas, who have completed their 3rd year or 2nd year in their undergraduate programs at their home institutions. The program is unique in that we accept those students as "Special Auditing Students," offering a specialized education or research guidance that contributes to the completion of their own graduation thesis. 15 participants among the twenty six 1st batch of program participants, continue their studies as graduate students or research students at Graduate Schools of Hiroshima University.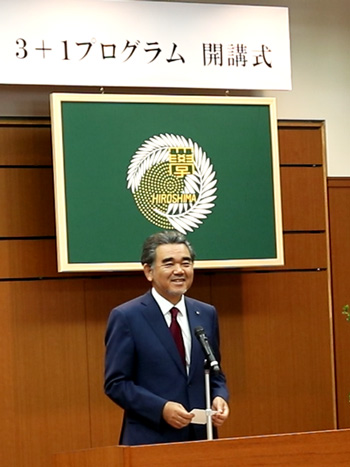 President Ochi addressing his ceremonial speech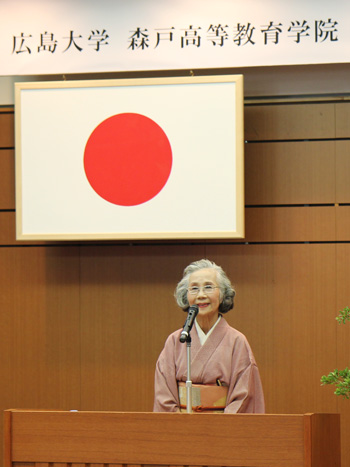 Ms. Yoko Hiyama addressing her remarks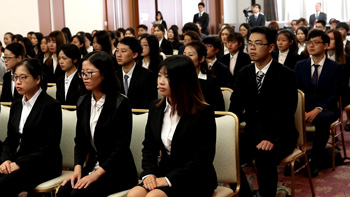 New students at the opening ceremony
[Inquiries]
International Exchange Group, Hiroshima University
TEL: 082-424-4541
E-mail: kokusai-ryugaku*office.hiroshima-u.ac.jp (Please replace asterisk into @)