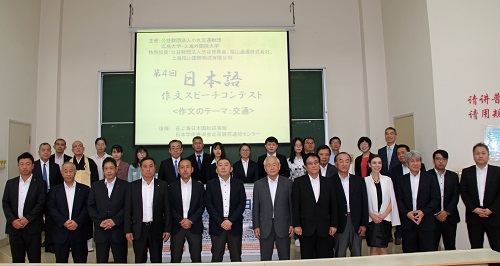 On September 23rd 2017, the 4th Japanese Essay Speech Contest was held at Shanghai International Studies University (SISU), one of the inter-university exchange agreement partners of Hiroshima University.
This was the fourth time that HU and Komaru Transportation Foundation have co-hosted this essay speech contest. This year's theme was "Transportation". The contest invited students from universities in and around Shanghai and there were applications from 207 students from 7 universities. Universities recommended a total of 33 essays out of those applicants. The 7 students that won awards presented their essays in the SISU auditorium. There were about 130 people in the audience including students learning Japanese and Japanese teachers.
Mr. Shigehiro Komaru, Executive Director of the Komaru Transportation Foundation and President of the Fukuyama Transporting Co. Ltd., gave an opening address before the contest, followed by an address by Mr. Keiji Kamei, Principal Officer from the Consulate-General of Japan in Shanghai.
The 7 students that won an award of excellence gave their fluent speech in Japanese. After severe reviewing, Ms. Qian Chenyao from SISU was chosen as first place, and Mr. Shan Leiting from Ningbo University of Technology was chosen for the "Consul-General of Japan in Shanghai Special Award".
The contest was concluded with the comments of Professor Yoshichika Honda, Vice Director of the Hiroshima University International Center, and the closing remarks by Professor Li Junyang, Vice Director of the Hiroshima University Beijing Research Center. The audience listened intently until the very end of the contest.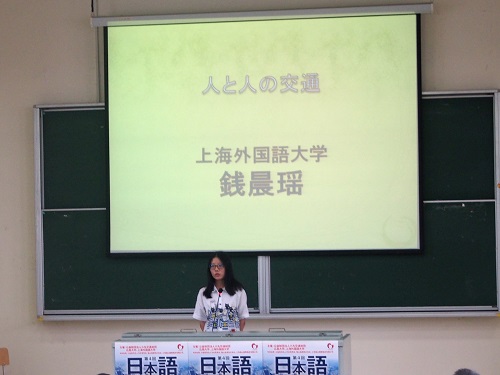 Ms. Qian Chenyao from SISU, the first place winner, giving her speech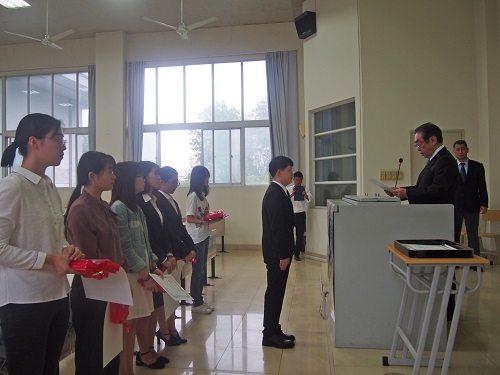 [Inquiries]
International Exchange Group, Hiroshima University