On October 5th, 2017, as a part of the event to celebrate the 20th anniversary of the friendship tie-up between Hiroshima and Hawaii, the officers and high-school students from Hawaii University, Hawaii State Department of Education, Campbell high school, Mililani high school, and Waipafu high school, 29 in total, visited Higashi Hiroshima campus of Hiroshima University (HU).
The orientation began with a welcome speech from Professor Sugihara, Director of the Admissions center, and Associate Professor Nagata, Vice Director of the Admissions Center, presented a summary of HU afterwards. Professor Carolin Funck, who is a faculty of the School of Integrated Arts and Sciences, introduced the curriculum of our brand-new department, the Department of Integrated Global Studies opening in April 2018.
From now on, it is expected to increase the number of applicants for our bachelor programs in English and to deepen the relationship between Hiroshima and Hawaii.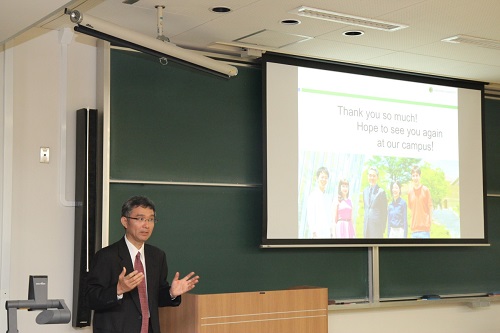 Vice Director Nagata explaining the outline of HU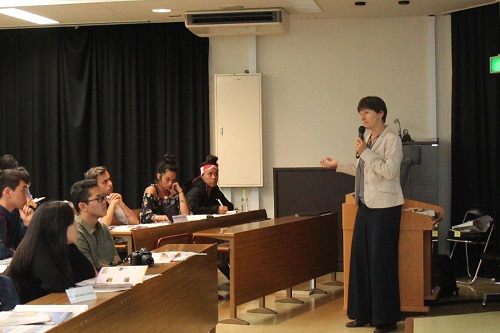 Professor Funck explaining the Departments of Integrated Global Studies, the School of Integrated Arts and Sciences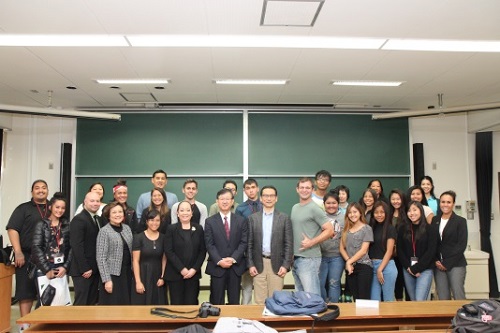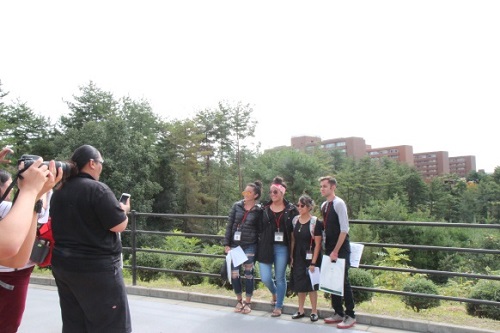 High school students posing for a picture in front of Budou Pond
Inquires:
Public Relations Group, Hiroshima University
E-mail: koho*office.hiroshima-u.ac.jp (Please replace asterisk with @)