On August 18, 2017, "2017(H29) Student Clinician Research Program (SCRP) Japan Invitational Competition" was held at the official hall for Japan Dental Association in Tokyo and Ms. Mai Yoshino, an undergraduate student at the School of Dentistry, who was nominated from Hiroshima University won the 1st place.
In this competition, representative students from 28 universities of dentistry from all over Japan were put in groups of two fields, a basic research field and a clinical field, and competed against each other with their research results and English presentations. Ms. Yoshino entered the basic field, and with her research theme "Single-cell Transcriptomics Uncovers the Diversity of Osteoblasts", she won the top, and also was awarded the 1st place in the entire competition.
Ms. Yoshino was qualified for giving a presentation as a representative of Japan with speakers from other countries at a scientific meeting hosted by America Association for Dental Research (AADR)/ International Association for Dental Research (IADR) in Fort Lauderdale, Florida, USA, from March 21, 2018.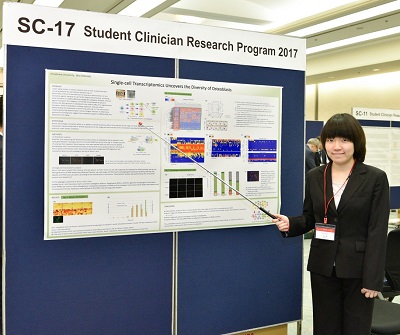 Ms. Yoshino giving a presentation with her poster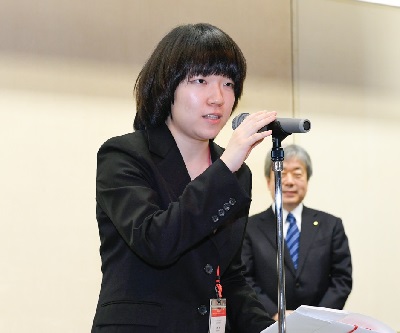 Ms. Yoshino giving a comment after her awarding
Comment from Ms. Yoshino:
I earned a lot of things from this competition far more than the research result. It was a great experience. I don't want to end my research here, so I will keep it up and make this experience as one step.
In response to this, an awarding ceremony was held at Hiroshima University on September 26, 2017. Dean Kato of the School of Dentistry awarded Ms. Yoshino with a commemorative plaque and a championship cup.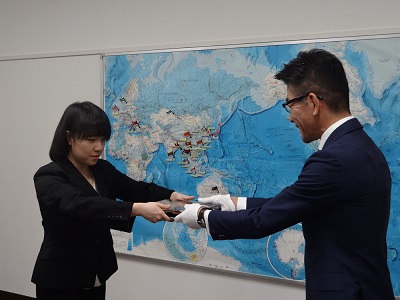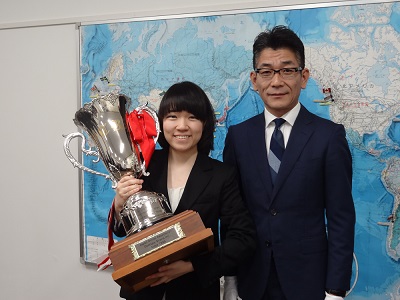 From left to right: Ms. Yoshino with her championship cup and Dean Kato of the School of Dentistry
Inquiries:
Student Support Group, Kasumi Campus Management Support Office (School of Medicine)
TEL: 082-257-5614
E-mail: kasumi-gaku-d(AT)office.hiroshima-u.ac.jp
(Please replace (AT) with @ when sending emails)