On November 13 2017, Hiroshima University welcomed Dr. Tunku Kamarul Zaman, Director and Mr. Iskandar bin Ahmad, Vice Director of University Malaya Medical Centre.
The visit began on Kasumi campus with a discussion about establishing a student/medical staff exchange program between UMMC and Hiroshima University Hospital. In the afternoon, the delegates met President Dr. Ochi and Executive and Vice President Sato on Higashi-Hiroshima campus and agreed to promote students and researchers exchange opportunities between the two universities. The delegates also took a campus tour including the University Hospital and the Amphibian Research Center.
University of Malaya and Hiroshima University have developed partnership since 1995. We look forward to strengthening our partnership and promoting further exchange between the two universities.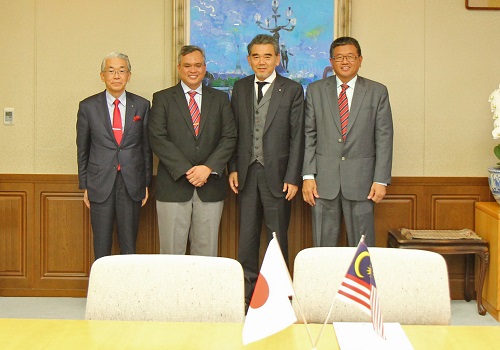 A commemorative photo with the UMMC
Inquiries:
International Exchange Group,
Hiroshima University
TEL: 082-424-6045
E-mail:kokusai-group*office.hiroshima-u.ac.jp (Please change * into @)