In a signing ceremony on November 17, Hiroshima University (HU) and the University of California (UC), Berkeley, commemorated their formal agreement to collaborate and promote exchange between their two institutions. HU president Mitsuo Ochi together with Vice Presidents Professor Kenji Kamiya and Professor Satoshi P. Watanabe visited the UC Berkeley campus to sign the agreement.
Founded in 1868, UC Berkeley has the oldest history among the universities of the UC system, and is well-known as a world-class research university, with an impressive roster of highly accomplished alumni and faculty, including Nobel laureates, entrepreneurs and public figures.
Faculty and graduate students in Hiroshima University's Leading Graduate Program, the "Phoenix Leader Education Program (Hiroshima Initiative) for Renaissance from Radiation Disaster" have been actively engaged with UC Berkeley in collaborative research activities and joint efforts to aid the recovery from the Fukushima nuclear accident in 2011. This new partnership brings further opportunity for exchange and collaboration in a wider range of fields between the two universities.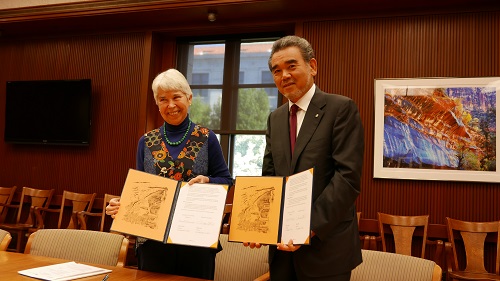 UC Berkeley Chancellor Carol Christ (left) and HU President Mitsuo Ochi (right)
[Inquiries]
Phoenix Leader Education Program Office, Hiroshima University
TEL: 082-424-4639
FAX: 082-424-6821