On November 29 International exchange students participating in the Hiroshima University Study Abroad Program (HUSA) made a presentation of their Practical Research Group Project titled the "Glocal Leadership Project : Cooperation of University & Local Society ~Self-Support System: Homesickness Mitigation~".
Seven groups of international exchange students in the HUSA Program 2017-2018 (thirty nine students from 33 universities in 13 countries of North America, Europe, Oceania, and Asia) reported the proposal of their group projects in English in the seminar chaired by the associate professor Naomi Tsunematsu of International Center. Students arrived in Japan at the end of September and have been working on the project plan in groups to cooperate with local people aiming at the mitigation of homesickness. Students are fully utilizing their cultural diversity in multinational teams.
The seminar was held by inviting the examiners from local industry and city council and received an important feedback. Professors and graduate students of Hiroshima University also attended the seminar, and students received valuable feedback on their project for its actualization.
Currently, projects such as "30 Days Survival Guide," "Hiroshima University Preparation Guidebook for New International Students," "An Introductory Video about Higashi-hiroshima," "Saijo Town Guide," and "Creation of an Interactive Map of International Cuisine in Saijo," have been taking place to provide support for international students from global perspectives. We are looking forward to the development of the students' new projects.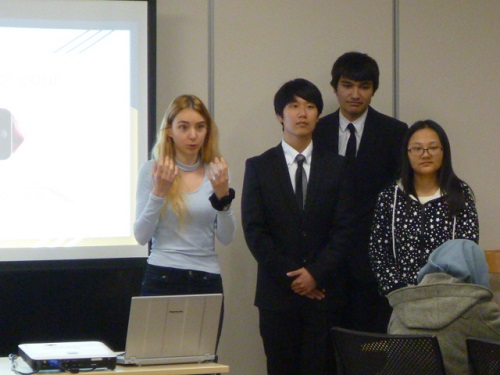 HUSA Program Students Making a Presentation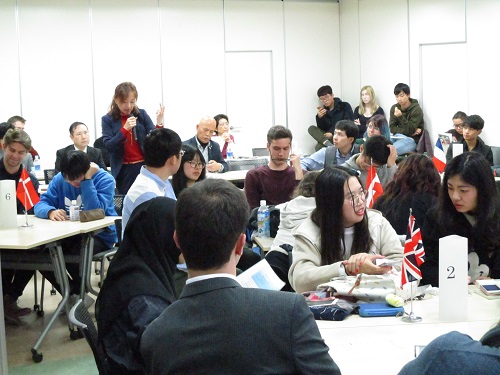 HUSA international exchange students getting feedback
[Inquiries]
Dr. Naomi Tsunematsu
Associate Professor
International Center: International Education Division
Hiroshima University
Email: ntsunema*hiroshima-u.ac.jp (Please change * into @)