On November 29th, 2017, Mr. Henry C. Tukombe, Permanent Secretary, Ministry of General Education, Republic of Zambia visited the Higashi-Hiroshima Campus of Hiroshima University and met HU President Mitsuo Ochi.
Mr. Tukombe expressed his gratitude to HU for its long-term contributions for education in Zambia such as through the STEPS (Strengthening Teachers' Performance and Skills through School-based Continuing Professional Development) Project starting from 2005, School curriculum revision in Mathematics and Science held in 2013, and the ongoing IPECK (Improvement of Pedagogical Content Knowledge: Linking Pre-Service and In-Service Education) Project supported by JICA.
President Ochi mentioned that 30 HU students have been sent to Zambia so far through the Zambia Education Program(*) at the Graduate School for International Development and Cooperation (IDEC). He also expressed his wish to maintain and develop the strong relationship between Zambia and Hiroshima University in the fields of education, research, and social contribution.
(*)The aim of this program is to fuse practice with research—participants teach mathematics or science in Zambian schools at either junior or senior secondary level as JOCV, and at the same time conduct research as graduate students of IDEC.
Mr. Benson Banda, Director of the National Science Center, Ministry of General Education, Zambia, accompanied Mr. Tukombe to this visit. He has completed his studies at IDEC in 2011. President Ochi shared his expectation with Mr. Banda to have further success in his future as a HU alumnus.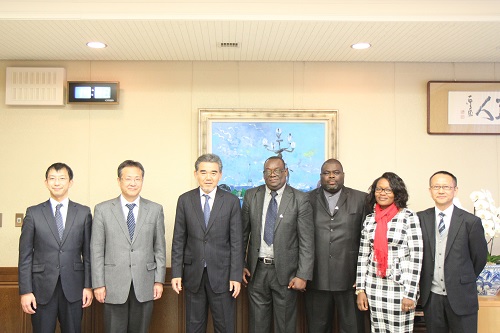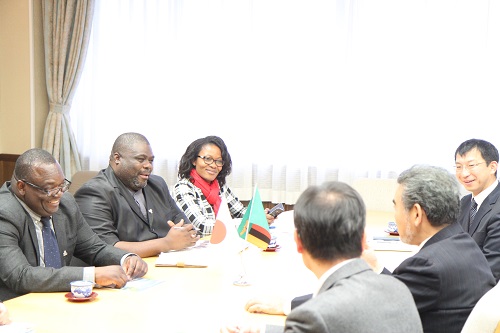 Inquiries:
Mr. Kazuro Shibuya
Associate Professor (Special Appointment)
Graduate School for International Development and Cooperation
Hiroshima University
TEL: 082-424-6922
E-mail: kshibuya*hiroshima-u.ac.jp (Please replace * with @)