On March 31st 2018, the 3rd Japanese Essay Speech Contest was held at Guizhou University, one of the inter-university exchange agreement partners of Hiroshima University.
This was the third time that Komaru Transportation Foundation has hosted this essay speech contest. Hiroshima University, Consulate-General of Japan in Chongqing, and Guizhou University, have co-hosted this event as in the past. This year's theme was "Artificial Intelligence and Transportation". The contest invited students from universities in and around Guizhou and there were applications from 33 students from 6 universities. Universities recommended a total of 18 essays out of those applicants. The 6 students that won awards presented their essays in the venue. There were about 100 people in the audience including students learning Japanese and Japanese teachers.
The contest started with the opening addresses by Mr. Shigehiro Komaru (Executive Director of the Komaru Transportation Foundation and President of the Fukuyama Transporting Co. Ltd.), and Prof. Wang Xiaomei (Vice-Dean, College of Foreign Languages, Guizhou University). In addition, Mr. Michihiko Komatsu (Consul General of Japan's Consulate General in Chongqing), the guest of the event, also gave his address.
The 6 students then presented their speech in Japanese fluently. Based on the judges' strict and fair reviews, Ms. Li Xueqin from Guizhou Normal University was chosen to be the first prize winner of the contest. In addition, Mr. Zeng Qingxiao from Guizhou University was chosen for "Consul-General of Japan in Chongqing Special Award" this time.
The contest concluded by Prof. Toshiyuki Sato, Executive and Vice President of HU, giving a closing speech. The audience listened intently until the very end of the contest.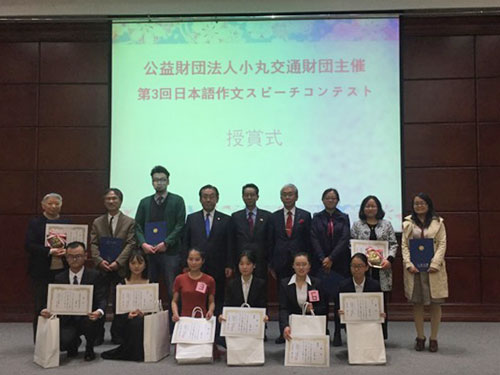 [Inquiries]
International Exchange Group,
Hiroshima University