On April 12, 2018, Director General Shin-Yang Chen from Taipei Economic and Cultural Office in Osaka visited the Higashi-Hiroshima Campus and met with President Mitsuo Ochi.
During the meeting, they had a lively discussion about promoting student exchange between HU and universities in Taiwan. In addition, the participants mentioned about the upcoming Japan-Taiwan University Presidents' Forum hosted by HU and scheduled in Hiroshima on June 7 (Thurs). They showed their high expectations that, with this event as momentum, inter-university exchange between Japan and Taiwan will continue to develop.
As of November 1, 2017, the number of Taiwanese students at HU amounts to 29. It is hoped that student exchange and academic collaboration with universities in Taiwan will flourish.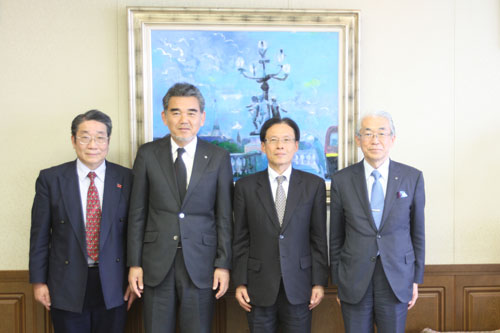 Commemorative photo by the participants
(from left; Section Chief Luo, President Ochi, Director General Chen, Executive and Vice President Sato)
[Inquiries]
International Exchange Group, Hiroshima University