On September 3rd 2018, the opening ceremony for Hiroshima University Mongolia Research Center, the 18th overseas base of HU, was held in Ulaanbaatar State University (USU) in Mongolia. On the same day, before the opening ceremony, the delegation from HU including President Mitsuo Ochi, Executive and Vice President Toshiyuki Sato and Prof. Nobuharu Sato of Graduate School for International Development and Cooperation, attended the USU's entrance ceremony where President Ochi made a congratulatory address.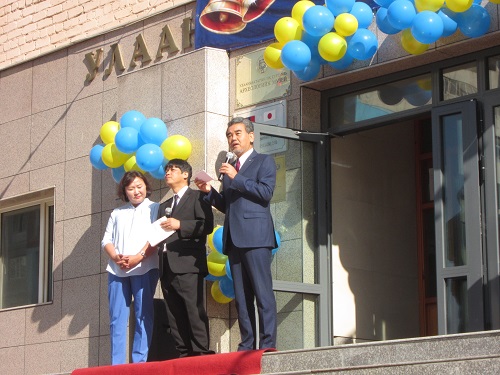 President Ochi delivering a congratulatory address at the entrance ceremony
The opening ceremony initiated with a ribbon-cutting by the participants including President Ochi and USU President Sanjaa Baigalsaikhan, with attendance of representatives from the Embassy of Japan in Mongolia and the Mongolia-Japan Center For Human Resources Development of The Japan Foundation, followed by the unveiling of signboard by presidents of both universities.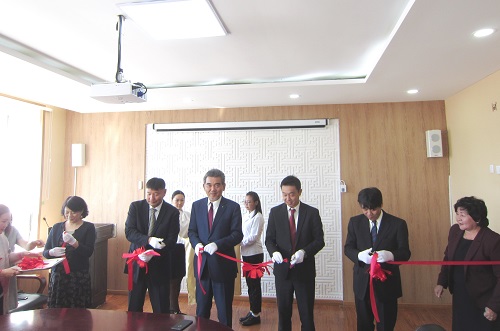 Ribbon-cutting by the participants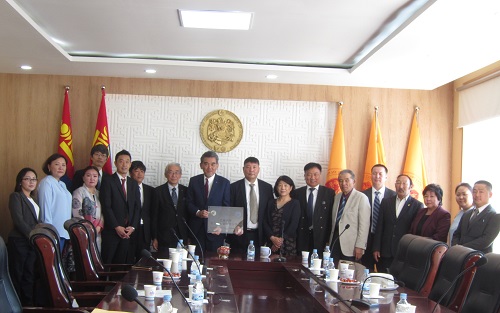 Commemorative photo after the signboard unveiling ceremony
Kyokushuzan-zeki, a successful former professional sumo wrestler, rushed to the luncheon party after the opening ceremony to celebrate the occasion.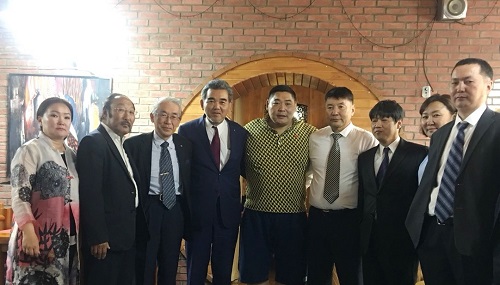 HU and USU concluded an inter-university exchange agreement in November 2016 and both universities have deepen relations since then, including HU accepting students from USU for the "Japanese Language and Culture Special Program".
With the establishment of this center, it is hoped that the collaboration between the two universities will develop further.
Related article:
HU Mongolia Research Center (USU's homepage written in Mongolian language)
[Inquiries]
International Exchange Group (International Center),
Hiroshima University
TEL: 082-424-6042