On July 25th, a group of twelve candidates for future public administrators of the new autonomous government in Bangsamoro, Mindanao (Philippines) made a courtesy visit to President Ochi.
During the visit, each trainee had a brief self-introduction, and the president explained about his field of expertise in a congenial atmosphere.
President Ochi said, "Hiroshima University has been engaged in a wide range of activities contributing to peace. I'm wishing your training outcomes will help establishing a stable autonomous government and will lay the foundation for peace in their region."
One of the trainees showed his determination by saying, "We will never forget the hospitality that we received in Hiroshima University. We will use what we learned from the training program and establish a better government."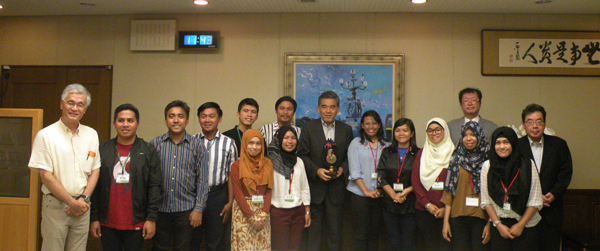 Hiroshima University, in collaboration with Hiroshima Prefecture, has been conducting a peacebuilding project for supporting the peace in Mindanao, the Philippines through JICA's Grass-root Technical Cooperation Scheme since 2014.
As an integral part of the above mentioned project, this training program is not only to attend the lectures specifically tailored for the trainees and delivered by officers from various departments of Hiroshima Prefectural Government and faculty members of Hiroshima University but to learn real issues of the government through the on-site trainings.
Trainees are expected to learn the value of peace and the importance of reconstruction from the experiences of Hiroshima through this training and become such public administrators as have skills to run an effective government which will make residents understand the real meaning of peace so that peace in the Bangsamoro region, one of the harshest battle field in the WWII, will be finally consolidated.
Related Article: 6th Hiroshima Essential Trainings was held from July 1 to July 28 by HiPeC-BM Program
[Inquiries]
HiPeC-BM Project Office (Kamiya/Fukuoka)
Hiroshima University Graduate School of Social Science