On October 24th 2018, a staff member of the Mexico's TV Station "TV Azteca", visited Kasumi campus of Hiroshima University to interview with President Mitsuo Ochi.
During the interview, President Ochi said that he visited 32 countries and has been focusing on networking with foreign universities since he took the office as president of HU. As a result, 172 new inter-university exchange agreements have been concluded and nine overseas offices have been set up all over the world.
In particular, the relationship with Mexico was referred. Hiroshima University Guanajuato Center, for example, is used as the base of Triple-Helix collaboration in Central and South America. He also explained why the university had decided to set up the center in Guanajuato University and about the agreements with the National Autonomous University of Mexico (UNAM) and National Polytechnic Institute (IPN). He also mentioned about future exchanges in education, research, and Triple-Helix collaboration.
In addition, he also stressed, Hiroshima University Guanajuato Center is the only overseas office of HU set up in a Spanish-speaking country, and the university would like to make the most of it for students who are studying Spanish and for researchers on Mexico.
"TV Azteca" is a private broadcasting company and one of the two largest key TV stations in Mexico. The contents of the interview are going to be broadcast in the special TV news program called "Noticias de Ida y Vuelta "(Round trip news) by March 2019.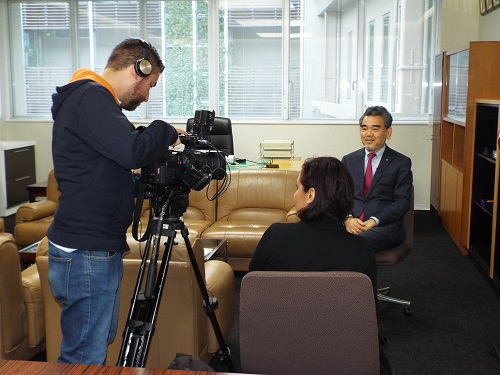 [Inquiries]
Hiroshima University Public Relations Group
Email: koho*office.hiroshima-u.ac.jp (Please replace * with @)