On December 17th 2018, Egyptian TV Station "DMC" visited the Center for Peace, Hiroshima University (CPHU) and had an interview with the Director, Prof. Noriyuki Kawano.
At the interview, Professor Kawano explained HU's mission to pursuit peace based on the fact that HU was established in Hiroshima where the atomic bomb was dropped. He also introduced CPHU's activities and unique efforts on peace. In particular, "peace subjects" which have been made compulsory to all first-year students since 2011AY have now 28 subjects that offer opportunities to students to think about peace from various perspectives.
Also, he mentioned about his observation trip to Egypt and expressed his opinion on the importance to offer Egypt-specific peace studies to be taught in Egypt-Japan University of Science and Technology (E-JUST). Now, E-JUST is in the process of discussing the content of lecture together with HU by making use of the know-how of peace studies offered at HU.
"DMC" is a new private satellite broadcasting company established in January 2017. The interview is scheduled to be broadcast by March 2019.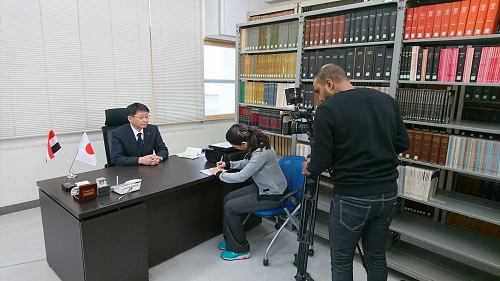 [Inquiries]
International Exchange Group, Hiroshima University