On February 6th 2019, President Mitsuo Ochi and Executive and Vice President Toshiyuki Sato visited the Vice Presidential Palace in Jakarta, the capital city of Indonesia. They had a meeting with Vice President Muhammad Jusuf Kalla who visited Hiroshima University (HU) in February 2018. This time around, HU President Ochi traveled to Jakarta to meet Vice President Kalla.
During the meeting, President Ochi explained how HU has actively engaged in student and research exchange with universities in Indonesia over the years. He also mentioned about HU graduates who are active after returning to Indonesia and stressed on the friendly relationship between HU and Indonesian universities. Vice President Kalla expressed his great expectations towards HU for further development of academic exchange between the two countries.
HU currently has over 150 international students from Indonesia, which is one of the largest among Japanese universities. HU is determined to promote academic exchange with universities in Indonesia even further.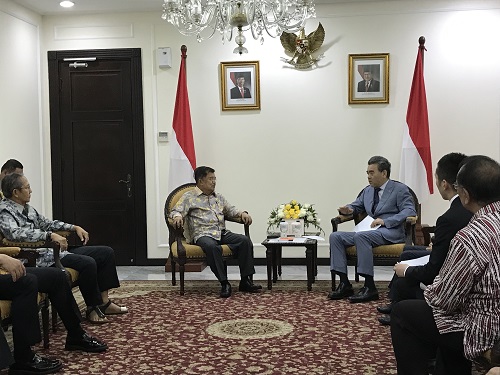 Vice President Kalla (left) and HU President Ochi (right) having a meeting
[Inquiries]
International Exchange Group, Hiroshima University