On May 17th 2019, the delegation from the University of Glasgow (United Kingdom) consisting of Professor Konstantinos Kontis (Dean for Global Engagement, College of Science & Engineering), Dr. Duncan Ross (Dean of Graduate Studies, College of Social Scienses) and Dr. Ramona Fotiade (College of Arts and Humanities), visited our Higashi-Hiroshima Campus and had a meeting with Vice President Yasushi Maruyama (in charge of International Exchange) and his colleagues. The meeting was also attended by Professor Atsushi Sugeta (Dean of the Graduate School of Engineering), Professor Manabu Abe (Dean of the Graduate School of Science), Professor Takashi Senda (Vice Dean of the Graduate School of Social Sciences), Professor Kazuhiro Kusahara (Vice Dean of the Graduate School of Education), and Professor Funck Carolin (Associate Dean of the Graduate School of Integrated Arts and Sciences). In the afternoon, the delegation visited and observed the Hiroshima Synchrotron Radiation Center.
Established in 1451, the University of Glasgow is one of the most prestigious research universities in the United Kingdom. Until now, Hiroshima University has closely exchanged with the University of Glasgow mainly in the field of science.
During this time's meeting, opinions were exchanged about various issues such as future exchange between the two universities. It is hoped that exchange between both universities will be further promoted.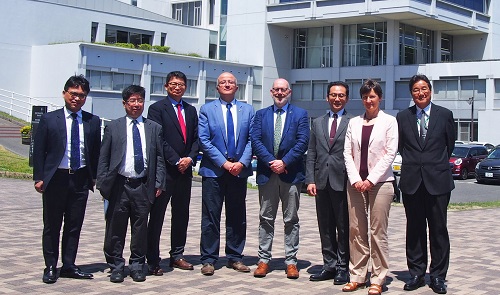 Commemorative photo
Professor Kontis (center left), Vice President Maruyama (third from the right), and other participants
[Inquiries]
International Exchange Group,
Hiroshima University