On June 7th 2019, Hiroshima University (HU) signed a Letter of Intent (LOI) for mutual cooperation with the Egyptian Ministry of Communications and Information Technology (MCIT). This LOI is based on another LOI signed by HU and the Egyptian Ministry of Higher Education and Scientific Research in April 2019 on mutual academic and educational cooperation. This time, we signed this new LOI for the purpose of promoting educational and research collaboration in terms of Information and Communications Technology.
In the signing ceremony, the LOI was signed by H.E. Dr. Amr Talaat, Minister of MCIT, and President Mitsuo Ochi from HU. The ceremony was also attended by H.E. Mr. Ayman Aly Kamel, Ambassador of Egypt to Japan.
Ever since President Ochi's inauguration in 2015, HU has promoted collaboration with Egypt by, for example, establishing the "Hiroshima University Cairo Center" in Cairo University in March 2016. Also, HU has signed an international exchange agreement with 7 Egyptian universities and institutes including Cairo University. Moreover, HU has made significant achievements based on the partnership with institutes of higher education in Egypt, such as participating in the management of Egypt-Japan University of Science and Technology (E-JUST) jointly managed by Japan and Egypt.
It is hoped that this LOI will help us develop collaboration with Egypt.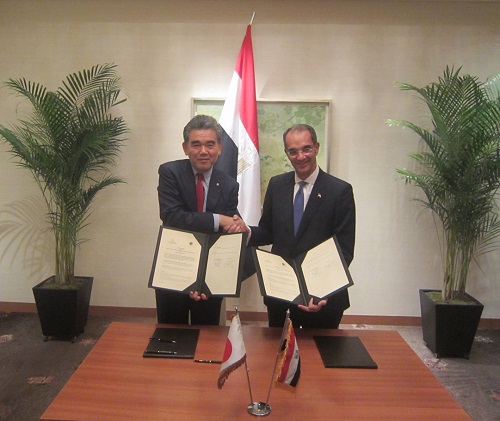 HU President Mitsuo Ochi (left) and MCIT Minister Amr Talaat (right), shaking hands after the signing ceremony
[Inquiries]
International Exchange Group, Hiroshima University
Tel: 082-424-6042