53 new international exchange students from 35 universities in 13 countries in North America, Europe, Oceania, and Asia, participating in the Hiroshima University Study Abroad Program (HUSA) 2019-2020, arrived at Hiroshima University. On October 6th they visited Yoshiura Autumn Crab Festival carried out by the local community Yoshiura, in Kure-city as a dedication to Yoshiura Hachiman Shrine. The international exchange students have just arrived at Hiroshima University on September 25th. Associate Professor Tsunematsu of the International Center led a party of international students to the festival, and it became her 17th time leading the trip. Newly arrived international student have been looking forward to this visit every year.
International students were intrigued by the sight of the variety of "mikoshi (portable shrines)" and ships prepared by each district to pray for good harvest and bumper catch, being carried toward the Shrine, and ogres and "bakurô" (brokers of horses and cattle) creating a path with bamboo sticks in their hands.
With the "Sô-rya sageta" call, people carried Danjiri or Mikoshi called "Chousai", or fishing boats on their backs; international students were deeply touched by the energy and vigor of the local people.
Local people warmly welcomed international students from all over the world who visited the traditional Japanese festival. When students got off the bus, "bakurô" was waiting for the students. Students also experienced wearing "hachimaki (a cloth headband)" that local people prepared for them. This day became a very memorable and enjoyable day enjoying the tradition in Japan.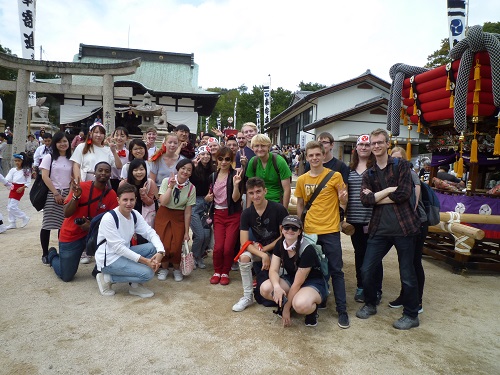 Experiencing the Traditional Japanese Matsuri (Festival)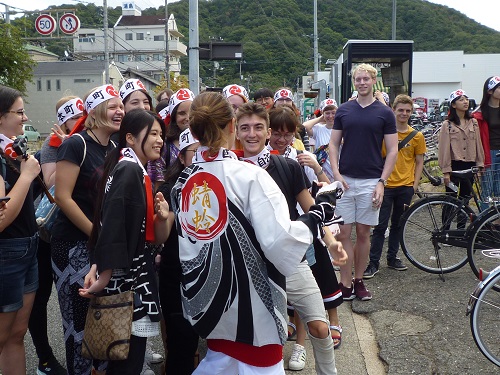 International Students with Community Residents
[Inquiries]
Dr. Naomi Tsunematsu
Associate Professor
Morito Institute of Global Higher Education
Hiroshima University
Email: ntsunema*hiroshima-u.ac.jp (Please change * into @)