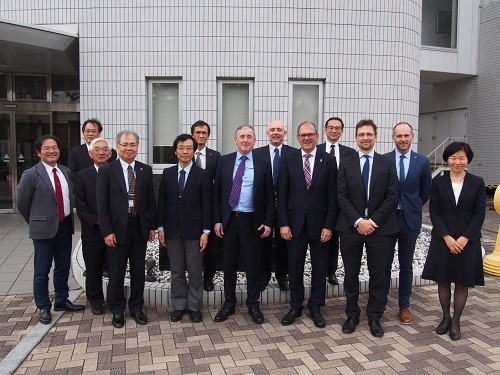 On November 7th 2019, the deputy vice-chancellor and other delegates from Lancaster University, University of Edinburgh and University of Glasgow in the United Kingdom (UK) visited the Higashi-Hiroshima Campus of Hiroshima University (HU).
The meeting started off with introductions from each university. After that, members actively exchanged opinions on sessions themed "University Strategy and Strategy Execution", "Financial Planning", "Research Strategy - University-Industry collaboration", "University's collaboration with Society", and "Innovation in teaching and learning & Student Life of Hiroshima University". This meeting provided a good opportunity to recognize the strengths and challenges of each university and compare the circumstances surrounding Japanese and UK universities.
With this visit, it is hoped that the academic exchange with universities in UK will be further promoted.
<Participating members from UK>
・ Prof. Peter Atkinson, Dean of the Faculty of Science and Technology, Lancaster University
・ Mr. Gavin Douglas, Deputy Secretary Student Experience, University of Edinburgh
・ Professor Neal Juster, Senior Vice-Principal and Deputy Vice-Chancellor, University of Glasgow
・ Mr. Richard Sharpe, Managing Director, Elementa Leadership
・ Mr. Robin Sharpe, Director and Researcher, Elementa Leadership
<Participating members from HU>
・ Prof. Makoto Miyatani, Executive Vice President for Education
・ Prof. Misako Aida, Executive Vice President for University Reform
・ Prof. Shinichi Tate, Executive Vice President for Research
・ Prof. Yoshihisa Kawahara, Executive Vice President for Industry-Academia-Government and Community Collaboration
・ Mr. Michio Yamada, Executive Director for Financial and General Affairs
・ Prof. Satoshi Watanabe, Senior Vice President for University Strategy
・ Prof. Yasushi Maruyama, Vice President for International Exchange (Chairperson)
・ Prof. Yukinori Yoshimura, Vice President for Student Support
・ Prof. Koichiro Ozawa, Deputy Executive Director for Educational Planning
・ Prof. Mitsuo Hayashi, Deputy Executive Director for Educational Planning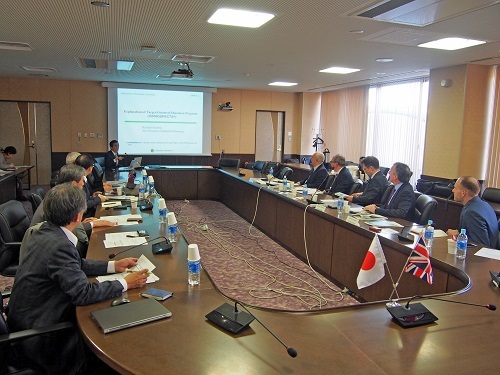 At the opinion exchange session
[Inquiries]
International Exchange Group, Hiroshima University