On January 21, former Egyptian judoka and silver medalist at the 1984 Los Angeles Olympics, Mohamed Rashwan, paid a courtesy visit to President Ochi to express his gratitude after the success of his knee surgery.
Mr. Rashwan played against Yasuhiro Yamashita (now president of the Japanese Olympic Committee) in the final of the men's open judo competition in the 1984 Los Angeles Olympics. During the match, Rashwan refrained from targeting Yamashita's injured right calf, a demonstration of sportsmanship, highly praised around the world. Mr. Rashwan has also received the Order of the Rising Sur, Silver Rays, a national decoration awarded by the Japanese government, for his efforts in the promotion of judo.
After all the years of competition, Mr. Rashwan's osteoarthritis worsened to the point that it was difficult for him to even walk short distances. In April 2019, while President Ochi was visiting the Cairo University Hospital, Mr. Rashwan was introduced to HU's President, who is also a leading expert in knee surgery, and received private medical consultation on his knee. In December the same year, Mr. Rashwan was admitted to the Aichi Medical University Hospital by President Ochi's referral and went under a successful knee surgery.
This time, Mr. Rashwan visited Hiroshima University's Hospital (Minami-ku, Hiroshima City) with one of his sons to meet President Ochi. "I was able to walk for 30 minutes instead of 2 before the surgery. Thanks to President Ochi for recommending a surgery I had never thought of. Now I want to go to the Tokyo Olympics." -expressed Mr. Rashwan.
During the meeting, President Ochi conveyed Mr. Yamashita's regards to Mr. Rashwan and also expressed: "I am glad that Japanese medicine and medical treatments can contribute to the world".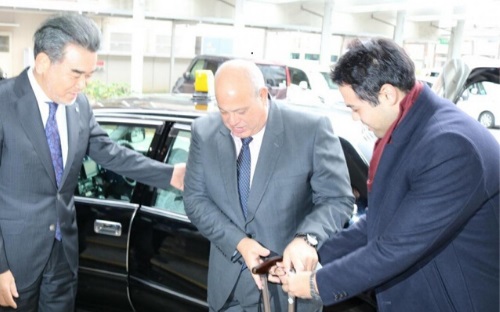 President Ochi (left) welcoming Mr. Rashwan (center)
Meeting with President Ochi. On the left is Mr. Rashwan's son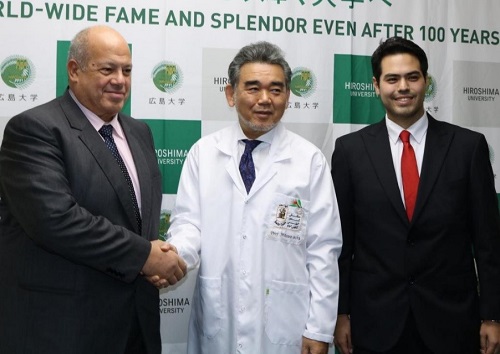 Mr. Rashwan shaking hands with President Ochi who was wearing the same white robe he used at Cairo University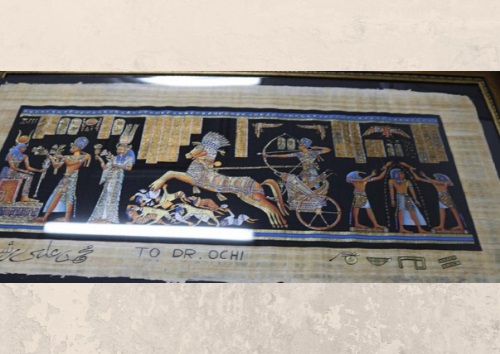 Papyrus painting -present from Mr. Rashwan to President Ochi
[Inquiries]
Public Relations Group
Hiroshima University
Email: koho*office.hiroshima-u.ac.jp (Please replace * with @)