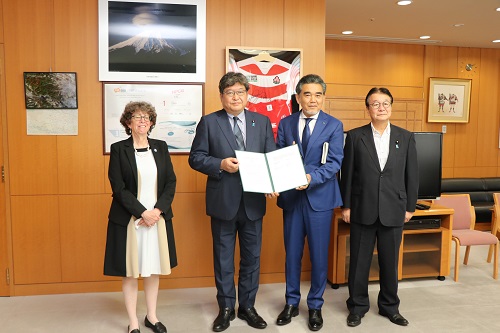 Hiroshima University made a courtesy call on the Minister of Education, Culture, Sports, Science, and Technology. (L-R) US Embassy to Japan Minister Glassman, Education Minister Hagiuda, HU President Ochi, and Mr. Yamamoto, a member of the House of Councilors.
Arizona State University (ASU) and Hiroshima University (HU) made a courtesy call on Japan's education minister to showcase their "Arizona State University/Thunderbird School of Global Management-Hiroshima University Global Initiative" agreement that focuses on global management education and business sustainability.
On Wednesday (August 5), HU's President Mitsuo Ochi and Executive Vice President Satoshi Watanabe paid a visit to Minister Koichi Hagiuda of Japan's Ministry of Education, Culture, Sports, Science, and Technology along with Minister Carolyn Glassman of the US Embassy in Japan, and Ai Konishi, general manager at Thunderbird School of Global Management, a unit of ASU Enterprise. Junzo Yamamoto, a member of the House of Councilors, was also present during the visit.
HU and ASU are working on a project that will come into effect starting October 2020 with HU's Higashi-Hiroshima campus as the point of operations. Under the project, ASU would be establishing an international branch of its campus inside HU — the first time a Japanese national university does so for a foreign university — to offer a bachelor's degree program in Global Management where all classes are taught in English.
The program will be centered around two approaches. The "2+2" model allows students to study the first two years at HU and the last two years at ASU. In the "4+0" model, students study the four years at HU. After completion, students will receive a bachelor's degree from ASU.
Full-scale acceptance of students is expected for August 2021.
"This is the first attempt at a national university, so I hope Hiroshima University will lead the way in a new direction," said Minister Hagiuda during the courtesy visit.
In the future, the university aims to be recognized as a "Location in Japan for a Foreign University."
HU hopes to further internationalize Japanese national universities through this initiative. It also expects that its ripple effects will lead to reforms on its management, through strengthening its financial base and management capability, and to the revitalization of local communities via collaboration with the local government.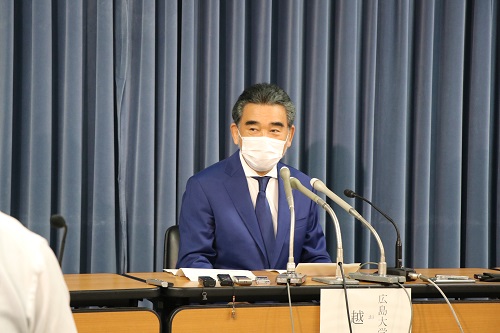 President Ochi during the press conference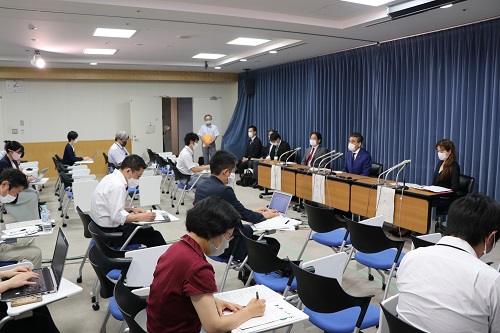 Press conference at the Ministry Education, Culture, Sports, Science, and Technology
[Inquiries]
Hiroshima University Department of International Affairs
Global Initiatives Group
TEL:082-257-4621
E-mail:g-strategy-gl*hiroshima-u.ac.jp (Place change * with @)