Hiroshima University Japan-India International Linkage Degree Program for Developing Innovators Transforming Advanced Technology to Social Goals will hold a student workshop on " Technologies for the Future." The object of this workshop provides students an opportunity to think of explore and appropriate technologies for creating the future and for delivering technologies to the last mile. In the keynote lecture, internationally successful social entrepreneurs will share their stories for extensive discussion for the future. The first lecturer is Ms. Neha Juneja who is well known as young entrepreneur marketing smart cooking stove to protect women in rural area from the smokes affect human body. The second lecturer is Dr. Ken Endo who works on the technology that rehabilitates and augments human physical capability, such as prostheses and orthoses for India. His team is now developing an athletic prosthesis in the 100m/200m sprint at the Tokyo Paralympic games in 2020. We hope many students, entrepreneurs, and others who are interested in social innovation and technology will join this workshop and get fresh inspirations from the talks and discussions toward the future.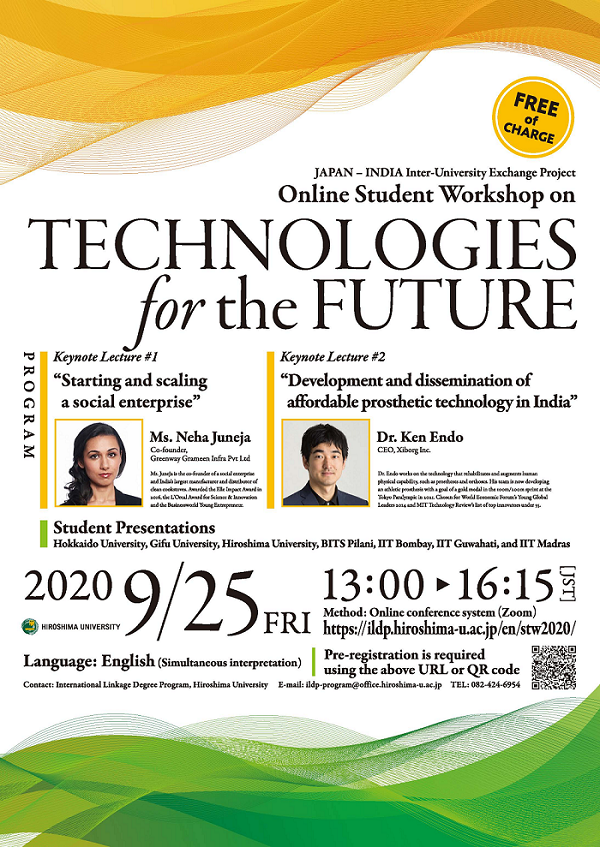 Date and Time
13:00-16:15, Friday, 25th September 2020 (JST)
Language
Online Registration (100 participants max.)
Program
13:00 Opening Remarks
Dr. Shin-ichi Tate, Executive and Vice President (Research and Academia-Government-Community Collaboration), Hiroshima University
13:05 Guest Speech
Mr. B. Shyam, Consul of General, Consulate General of India, Osaka-Kobe Japan
Dr. Souvik Bhattacharyya, Vice Chancellor, Birla Institute of Science and Technology, Pilani
13:15 Keynote Lecture I
Ms. Neha Juneja, Co-founder, Greenway Grameen Infra Pvt Ltd
14:05 Student Presentation
by Indian Institute of Technology Bombay, Birla Institute of Technology and Science, Pilani, Indian Institute of Technology Madras, and Indian Institute of Technology Guwahati
14:25 Break
14:35 Keynote Lecture II
Dr. Ken Endo, CEO, Xiborg Inc.
15:25 Student Presentation
by Hiroshima University, Hokkaido University, and Gifu University
15:40 General Comment
Dr. Usha Dixit, Counsellor (S&T), Embassy of India, Tokyo Japan
Mr. Yuji Nishikawa, Advisor for International Relations Cooperation Department of Sakura Science, Japan and Technology Agency
Dr. Emi Makino, Associate Professor, Hiroshima University
16:10 Closing Remarks
Dr. Swati Patankar, Dean of International Relations, Indian Institute of Technology Bombay
Dr. Akimasa Fujiwara, Vice President (Academy of HU), Hiroshima University
Contacts
International Linkage Degree Program, Hiroshima University
ILDP Office
Email: ildp-program*office.hiroshima-u.ac.jp (Please replace * with @)