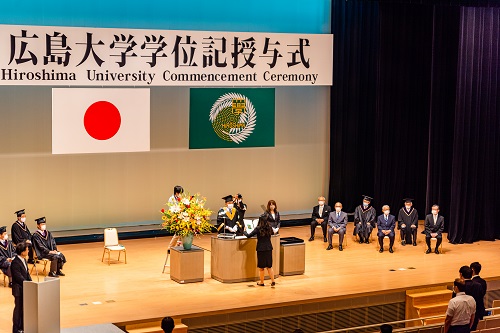 On September 18, the 2020 Autumn Term Commencement Ceremony was held at HU's Satake Memorial Hall on the Higashi-Hiroshima campus. A total of 337 new graduates (26 undergraduate students and 311 graduate students), including 252 international students, received their diplomas. To halt the spread of novel coronavirus, only graduating students participated in the ceremony, and three student representatives were awarded diplomas by HU President Ochi.
In his speech, President Ochi referred to the actions and measures taken by the university in response to the novel coronavirus. The outbreak has badly affected the lives of many international students; many lost their part-time jobs or saw a sharp drop in their incomes, and many others had no choice but to stay in Japan, unable to travel back to their home countries. With the wish to support students who find themselves in great financial difficulty, HU was amongst the quickest of Japan's universities to provide monetary support through funds raised from the "Emergency Aid for HU Students" drive.
"I would like to express my appreciation and to pay tribute to all the students here today who have managed to overcome these difficulties. At the same time, the invaluable contribution and support of family, friends, and other significant people such as fellow students, should never be forgotten," said President Ochi.
Also, the university's president referred to the "10,000-hour rule" popularized by Malcolm Gladwell — an American columnist — which says that 10,000 hours of deliberate practice are needed for anyone to become a super-high achiever in any field. Meaning that it takes countless hours of hard practice before one's talents and skills blossom.
"Apart from the pandemic of the novel coronavirus, the world is now facing many difficult issues, including global environmental problems, nuclear-related problems, poverty, and various kinds of abuse. I implore you to make the most of your knowledge and skills attained at HU by making every attempt to address these issues without holding back," he remarked.
Following the address of Rikako Yamamoto — the remaining student's representative — from the Graduate School of Engineering and Advanced Sciences, Tabitha Mlowoka Kayira — the new graduates' representative — from the School of Biosphere Science offered a speech congratulating all fellow graduates and sharing her life experience as a Malawian international student at HU.
"Especially, to my fellow international students, I can see a diversely talented generation here, full of ambitions and ready to impact the world stage with our areas of expertise. Let us shine our light and relentlessly pursue research that will help resolve human problems out there. To approach challenges with a global mindset, we should continue collaboration beyond this university life," ended Mlowoka.
President's full Ceremonial Speech (English)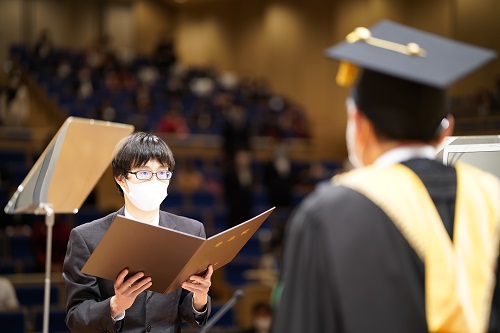 One of the student representatives receiving his diploma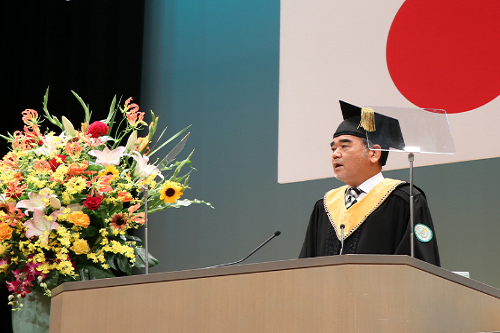 President's Ceremonial Speech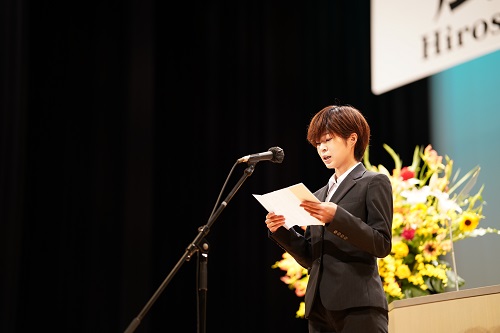 The representative of the remaining students reading a valedictory message to the new graduates
The representative of the new graduates delivering an address of thanks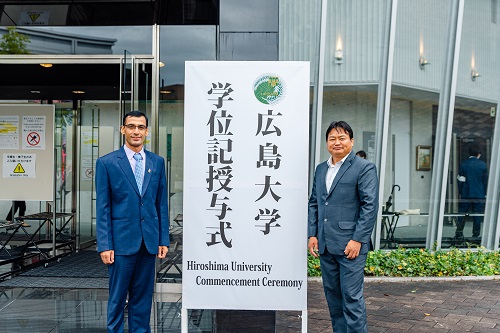 Commemorative photographs in front of the venue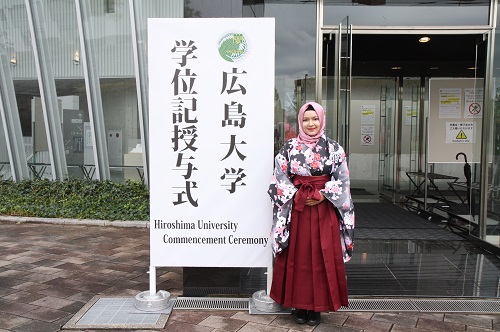 Commemorative photographs in front of the venue
Find more pictures of the ceremony here.
[Inquiries]
Hiroshima University, Public Relations Group
TEL: 082-424-6762
E-mail: koho*office.hiroshima-u.ac.jp (Place change * into @)