On November 3 2020, Dr. Andi Husni Tanra, one of our former international students, was awarded the Order of the Rising Sun, Gold Rays with Neck Ribbon from the Japanese government at the 2020 Autumn Conferment of Decorations on Foreign Nationals, for his contribution to enhancing the academic exchange and friendship between Japan and Indonesia.
After graduating from the Faculty of Medicine, Hasanuddin University in Indonesia, Dr. Andi Husni Tanra studied at the Graduate School of Medicine of Hiroshima University (HU) from 1976 to 1981, during this time he earned his doctor of medicine.
After completing his study at HU, he went back to his alma mater Hasanuddin University, where he served as a professor of the Anesthesiology Program and the dean of the Graduate School of Medicine. He is currently a professor emeritus of Hasanuddin University and also serving as the President of the Indonesian branch of the Association of Medical Doctors of Asia (AMDA).
From 1981 until now, as the Indonesian branch president of AMDA, Dr. Andi Husni Tanra has made significant contributions towards the improvement of Indonesian medical standards. In the event of earthquakes and tsunamis, he actively devoted himself to humanitarian aid activities. Also, he has made great contributions for years to promote friendship between Japan and Indonesia as the Chairperson of the South Sulawesi office of the Association of Indonesian Alumni from Japan (PERSADA), by giving guidance to Indonesian students studying in Japan while introducing Japanese culture to Indonesian people. And in 2004, he was awarded with the Japanese Foreign Ministers Certificate of Commendation, for the recognition of his contribution towards the promotion of friendship between the two countries.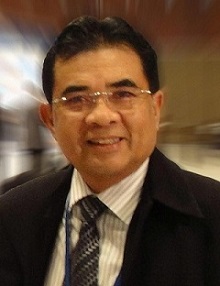 As a former student of HU, he is currently the president of the HU Makassar Alumni Association established in December 2011. Also, in 2016, he was appointed as HU International Exchange Ambassador and has actively deepened exchange with HU since then.
Furthermore, when H.E. Mr. Muhammad Jusuf Kalla, the Vice President of the Republic of Indonesia visited HU in 2018, he also visited us as a special guest from Indonesia.
We wish to express our sincere congratulations on receiving the Order of the Rising Sun, Gold Rays with Neck Ribbon, and pray for his continued success.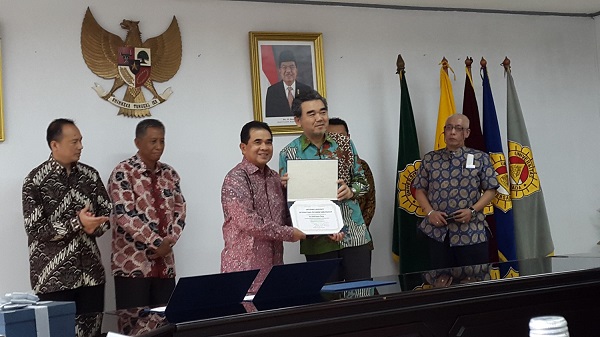 In February 2016, at the Hiroshima University International Exchange Ambassador
Certificate Award Ceremony
(Center left: Dr. Andi Husni Tanra, Center right: President Ochi)
[Inquiries]
Global Initiatives Group, Hiroshima University
TEL: 082-424-3505
E-mail: kokusai-kyoten*office.hiroshima-u.ac.jp
(Please change * with @)