On December 19th, 2020, the 5th Japanese Essay Speech Contest was held online in Indonesia and Japan.
Since its inaugural event in 2016, this annual contest has been held and co-hosted by PERSADA-HU Collaboration Project Center and the Komaru-Koutsu Foundation with the theme of "Transportation", in Universitas Darma Persada (UNSADA) in Jakarta, where the PERSADA-HU Collaboration Project Center is located. However, this year's event was held online and broadcast live from the Higashi-Hiroshima Campus of Hiroshima University (HU), with the contestants, special guests and other participants from Indonesia participating online from 25 individual locations due to the influence of COVID-19. There were 117 applications in total from 10 of HU's international exchange partner universities, which are all institutions leading in Japanese language education in Indonesia. Out of the 117 applications, 39 were recommended by their universities, and from those 10 students were selected and presented their essays at the contest.
The contest began with opening addresses by Mr. Shigehiro Komaru (President of the Komaru-Koutsu Foundation and President of the Fukuyama Transporting Co. Ltd.) and President Tri Mardjoko of UNSADA.
Then, Japanese Ambassador to Indonesia H.E. Masafumi Ishii, the special guest of the event offered words of encouragement, not only promoting friendship between Japan and Indonesia, but also nurturing individuals who will form a bridge between the two countries.
Following that, the 10 contestants appeared via pre-recorded videos and presented their speeches in Japanese. The panel of judges asked questions to each contestant after the broadcast of their speeches. Then, Specially Appointed Lecturer Daichi Yanamoto from HU Morito Institute of Global Higher Education, who chaired the panel of judges, made his comment, followed by the announcement of result. This time, the first prize went to Ms. Delia Budi Kamila from Universitas Brawijaya.
At the end of the contest, HU President Mitsuo Ochi made closing remarks to conclude the event. The participants of approximately 110 people, both in-person and online, listened enthusiastically until the very end.
The 10 participating universities (in order of appearance):
Universitas Airlangga, Universitas Sumatera Utara, Universitas Hasanuddin, Universitas Udayana, Universitas Indonesia, Universitas Darma Persada, Universitas Gadjah Mada, Padjadjaran University, Universitas Brawijaya, Indonesia University of Education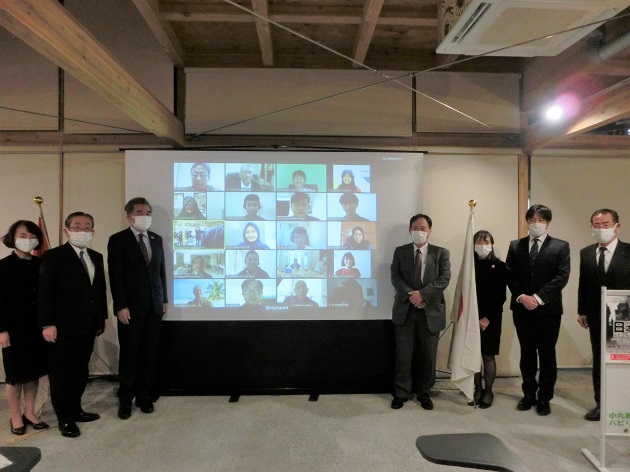 Group photo at the venue in Japan
[Inquiries]
Global Initiatives Group,
Hiroshima University
TEL: 082-424-6042