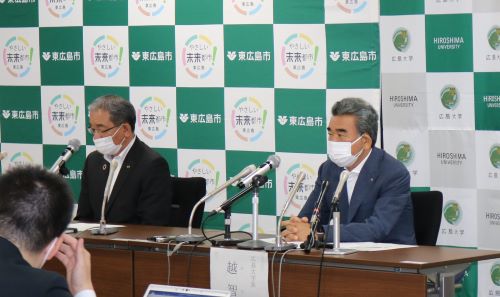 Mayor Hironori Takagaki of Higashihiroshima City (left) and President Mitsuo Ochi of Hiroshima University (right)
Hiroshima University announced last Friday, June 4, that a large-scale vaccination program for HU students, faculty, and staff would start from June 21 in collaboration with Higashihiroshima City.
The press conference was attended by HU President Mitsuo Ochi, Executive Director Koji Tawara, Executive Vice President Junko Tanaka, HU Hospital Director Yoshiaki Kiuchi, and Deputy Director Hiroki Ohge. From Higashihiroshima City, Mayor Hironori Takagaki and Director of the Children's Future Department Takao Kataoka attended the media event.
A total of 18,000 students, faculty, and staff members at HU will be eligible for vaccination on a subscription basis. Vaccines will be administered at the West Gymnasium of the Higashihiroshima Campus. The city of Higashihiroshima will be in charge of setting up the venue and registration. HU will dispatch about 20 doctors, dentists, nurses, and pharmacists daily to conduct medical consultations, vaccinations, follow-up observations, and vaccine management. HU expects to vaccinate 2,000 people a day on weekends and 500 a day during weekdays.
At the press conference, President Ochi said, "In response to requests from the national and the local government, we were determined to collaborate with the city of Higashihiroshima to provide large-scale vaccinations. Hiroshima University will continue to take the initiative in fulfilling its mission as a national university and contribute to the healthcare services of the nation and the local community — which is in a critical situation due to the spreading of the coronavirus."
Mayor Takagaki also expressed his hopes, commenting, "Vaccination at Hiroshima University, which accounts for about 10% of the population of Higashihiroshima City, will greatly advance the vaccination program in our city."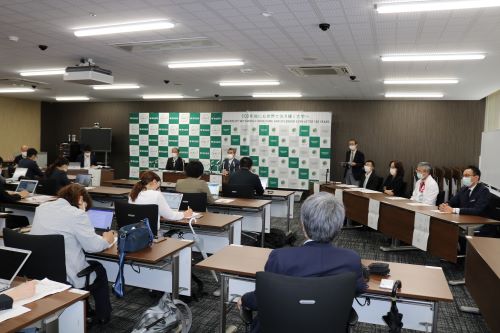 Press conference held at Hiroshima University Hospital
[Inquiries]
Hiroshima University
Deputy Executive Director (Public Relations)
E-mail:friji-koho*office.hiroshima-u.ac.jp(Please replace*with@)